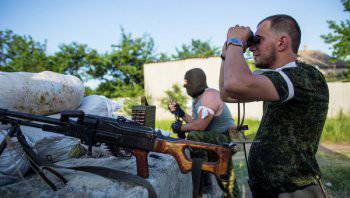 According to RIA
"News"
, with reference to the Ministry of Defense of Ukraine, over the past day, three checkpoints of the security forces under Slavyansky came under fire from the militia. There are no casualties on the side of the military, the victims of the militias are also not reported.
"In 17.40 (on Thursday), in Slavyansk, a roadblock at the TV tower of the BMD-2 and infantry
weapons
using rail cars as cover. The paratroopers opened fire, "representatives of the Ministry of Defense reported.
Only ten minutes later, a checkpoint near the village of Semenovka came under fire, the ministry said. A little later, unknown persons fired upon a reconnaissance group of sniper rifles. They were returned fire from the BTR.
It is worth recalling that last night the term of the ultimatum put forward by Kiev by the people's militia of the Donbass expired. The Ukrainian military was given 24 hours to leave the territory of the Donetsk region. Otherwise, the militia promised to launch their own military operation.