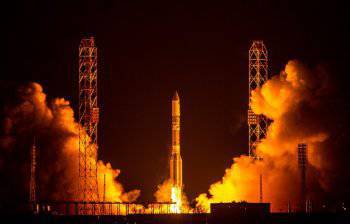 According to the
ITAR-TASS
, with reference to the head of Roscosmos Oleg Ostapenko, the reason
accidents
missiles "Proton-M" may be the pressure drop in the third-stage steering engine.
"It's hard to give the exact reason now, we'll study telemetry," Ostapenko added.
According to preliminary information, the launch vehicle burned down in dense layers of the atmosphere at an altitude of 161 kilometer above the Pacific Ocean. "The head unit as part of the Briz-M upper stage and the Express AM4P spacecraft did not have time to separate from the rocket and was not put into orbit," Ostapenko said.
Also, the head of Roskosmos said that a special commission, which should be headed by Alexander Danilyuk, the first deputy general director of TsNIImash, is investigating the causes of the incident. "The decision will be later. I have already determined his candidacy, "Ostapenko said.
According to the vice-president of Ingosstrakh, the Proton-M launch vehicle and the Express-AM4P satellite were insured for 7.8 billion rubles. In addition, liability was insured to potential victims of rocket debris falling to the maximum limit of 6 billion rubles. Leading foreign companies acted as reinsurers.
According to the press secretary of the Russian television and radio broadcasting network, Igor Stepanov, the accident will not affect the timing of Russia's transition to digital broadcasting. "Yes, of course, RTRS was planning to use the power of Express-AM4P to distribute the digital television signal. However, the absence of this satellite will not affect the timing of the implementation of the Federal Target Program "Development of TV and radio broadcasting in the Russian Federation over the 2009-2015 years," he said.