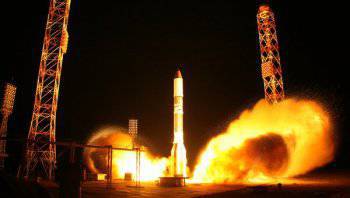 According to the
ITAR-TASS
, citing a representative of the Federal Space Agency, the Proton-M launch vehicle, which was launched from the Baikonur launch site on Friday night, burned down in dense layers of the atmosphere.
"Separate small fragments of the rocket could fall to Earth. The region of the fall is being specified, "the source added.
The Proton-M carrier rocket, equipped with the Briz-M upper stage, was to put into orbit the most powerful Russian communications satellite Express-AM4P, created by the European company EADS Astrium by order of the Federal Space Agency program of Russia for 2006-2015 years, said RIA
"News"
.
The accident occurred on the 540 second flight. The third stage of the rocket did not work out approximately 40 seconds before the planned separation of the Briz-M upper stage.
"During the launch at the stage of operation of the third stage of the launch vehicle, an abnormal situation arose, and the Express-AM4P spacecraft was not put into orbit. At present, representatives of the state commission are analyzing telemetric information and finding out the causes of the emergency situation, "said the press secretary of the head of Roscosmos, Irina Zubareva.
A special commission will be created to investigate the causes of the accident.