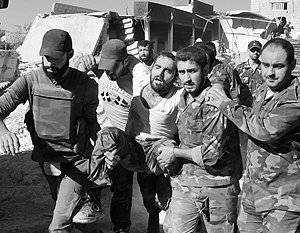 "To offer them in the event of war to war on American territory - they will immediately sober them up like our missiles in 1962," military expert Leonid Ivashov told the LOOK at the LOOK. So he sees possible methods of deterring the United States in response to their decision to declare the upcoming elections in Syria illegal.
Washington declared presidential elections planned in Syria illegal. This was announced on Tuesday by the White House following the talks of President Barack Obama with the leader of the National Coalition of Opposition and Revolutionary Forces (NKORS) of Syria, Ahmed Al-Jarboy.
As ITAR-TASS recalled, the total amount of US assistance to moderate opposition in Syria will be about 287 million dollars. Earlier, the head of the NKRSA warned that Obama would seek to supply man-portable air defense systems (MANPADS) to the opposition. However, in the statement of the White House this topic is not reflected in any way.
On the eve, Damascus from the West once again heard allegations of using chemical
weapons
. Syrian authorities 14 once since October, used chemical weapons, said French Foreign Minister Laurent Fabius during his visit to the United States. "France regrets," said Fabius, that Obama did not make a decision to strike at Syria.
The president of the Academy of Geopolitical Problems, Colonel-General Leonid Ivashov spoke about why Washington refuses to recognize the elections in Syria, but willingly recognizes the planned presidential elections in Ukraine as legitimate.
VIEW: Leonid G., why the United States supports the revolutionaries in Syria and do not support the rebels in Donetsk and Lugansk? Are these eternal double standards?Leonid Ivashov
: There are no double standards in US policy. There is one standard - the American approach to the international problems of other countries. After the collapse of the USSR, the United States imagined itself to be the masters of the world. They destroy the international legal system, subjecting all norms of international law to their own interests. Others are not interested in them: neither people, nor countries, nor justice.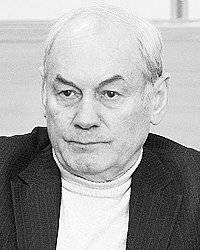 Leonid Ivashov (photo: RIA "
News
")
Where it is profitable for them, they will support the one who will bring them either political or economic benefit. Today it is important for them to shake up the common ground between Ukraine and Russia, to shake Ukraine and Syria until they are completely destroyed. And they use the most diverse methods - there are gangsters, their allies, here, in the Middle East, the most radical are not even Islamists, they are just mercenaries and fascists.
And in Ukraine, the same forces are used - Bandera and fascists. This is the whole policy of the United States, which took shape as early as the first half of the 19 century, when entire Indian tribes were being destroyed for profit. Nothing has changed in the behavior of the American financial elite.
Why was the cold war more tranquil? They did not violate the norms of international law, because it was unprofitable for them. They suffered material and political losses. And today, no one can answer them! But where they answer powerfully, there they immediately offer various kinds of compromises. Today, neither in Ukraine, nor in Syria, there is no one to infringe their interests, so they will behave in the same uncompromising manner.
VIEW: The United States has recognized the elections scheduled for the end of May in Ukraine as legitimate, but it does not recognize the elections scheduled for June in Syria ...L.I.
: The situations are mirrored, but the interests of the United States are different. Now, if their protege comes to power in Syria, then they will immediately recognize them as legitimate. If Ukraine is not won by their protégé, they will recognize the Ukrainian elections as illegitimate. That is the essence of the American elite.
And in accordance with their interest, they spit on international law, on the UN Charter. Because they affirmed that the world is unipolar, and that they are the masters of this world. And as long as you do not knock out this nonsense from them, with causing damage to them, they will behave like this.
VIEW: What should be the damage? Are you for open warfare?L.I.
: No no no! All this can be done informational, economic and financial transactions. US territory needs to be threatened in order to curb their military-force activity and aggression. They are accustomed to start wars, bomb foreign countries, fight far from their territory. They make money in any such situation. But to offer them in the event of war to make war on American territory - they will immediately sober them up, like our missiles in the 1962 year. They then sobered up great!
VIEW: France announced that Syria has once again used chemical weapons. What do you think this could be?L.I.
: Chemical weapons were used only with the sanction of US special services. Applied by their supporters. When the situation comes to a standstill, you need to stimulate it - and they introduce everything that is possible. Including chemical weapons. In Japan, they once took and used nuclear weapons. Here - sanctioned and conducted an operation with the use of chemical weapons. In another way could not. And they will go to anything. Today, no one can stop them - neither China nor Russia - and they are doing everything that they consider to be a big profit.
VIEW: Is the likelihood of a NATO invasion of Syria growing again now? If so, what will be its outcome?L.I.
: If NATO troops intervene in the Syrian process, the war will begin national liberation and the internal civil will continue. But when it ends, it is difficult to say. It can last for decades. The main thing today is to prevent this interference.
It is not Bashar Assad who is fighting - most of the population of Syria is fighting on his side. There will not be that in Libya. People used to hold arms in their hands for many years. They have lost their loved ones and homes, and even out of a sense of vengeance, they will still fight. There are a lot of weapons there today on both sides.