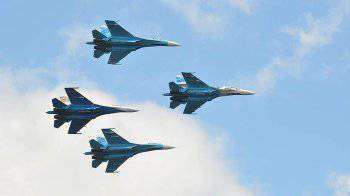 According to the newspaper
Kommersant
In the second half of 2014, the United Aircraft Corporation (UAC) enterprises will deliver four Su-30MK2 Vietnam fighters and six MiG-29К / India cube. In addition, export contracts for this year provided for the delivery of the first batch of Su-30K Angola fighters, but it was transferred to 2015 year due to the need to repair and modernize the aircraft.
According to a source close to the Rosoboronexport Russian weapons exporter, in the case of Vietnam, Russia will begin to execute the previously concluded contract, and in the case of India it will continue execution.
The publication notes that Vietnamese
aviation
The contract for 12 Su-30MK2 was signed in August 2013. Vietnam Air Force will receive the remaining eight Su-30MK2 fighters in 2015.
The contract with India was concluded in March 2010. It provides for the supply of 29 aircraft. According to Sergey Korotkov, director general of the RSK, the customer received the first seven MiG-29К / Cube in 2013 year.
The contract with Angola for the supply of Su-30K, previously used by the Indian Air Force, was signed in October 2013.