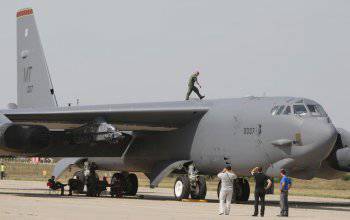 As the
"RT in Russian"
, on the website of the Strategic Command of the US Armed Forces, data appeared on the exercises called "Global Lightning 14", scheduled for May 12-16. As part of large-scale maneuvers involving several types of troops and strategic bombers, the procedure will be worked out in case of a threat of a nuclear strike on the territory of the United States. It is noted that ten strategic bombers B-14 and six B-52 will take part in the "Global lightning 2".
"These maneuvers give us a unique opportunity to conduct combat coordination of various types and types of troops using the most modern military technologies. The continued development of the US strategic potential allows us to effectively contain and prevent a potential nuclear threat against both the States and our allies, "said Admiral Cecil Haney, Chief of the Strategic Command of the US Armed Forces.
It is worth recalling that on May 8 a planned training session on command and control of the Russian armed forces took place with the participation of the Supreme Commander-in-Chief Vladimir Putin, in the framework of which the actions of individual formations and military units of the missile forces, artillery, air defense and
aviation
to destroy ground groups and repulse massive enemy missile and air strikes. In particular, there were three launches of ballistic missiles, as well as cruise missile launches by the strategic missile carrier Tu-95MS.