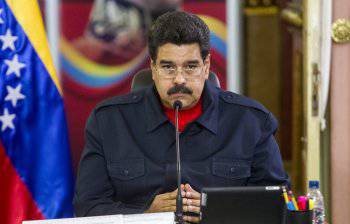 According to the
ITAR-TASS
, Venezuelan President Nicolas Maduro made a statement about the capture of one of the main organizers of the protests with violence that swept the republic since mid-February this year.
"Two days ago we detained one of the organizers of the actions, which is known by the name Aviador (Aviator)," he said at a meeting with leaders of national trade unions. - He was taken with
weapons
, a large sum of money, he has a lot of information. "
The president noted that the detainee had already told everything he knew about the so-called "Guarimba Operations" - protest actions in which participants block traffic on highways, engaging in open confrontation with police officers. According to the authorities, such actions are organized by provocateurs and terrorists sponsored by the opposition.
It is worth recalling that from mid-February on the territory of Venezuela, protest actions have begun that began with student demonstrations. According to the General Prosecutor's Office, 41 people died during their dispersal, more than 700 were injured. In total, more than 2600 demonstrators were detained, 180 of them are still in custody.