SBU: Slavyansk militia detain 40 people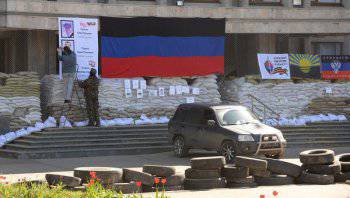 The head of the press service of Ukraine's security, Marina Ostapenko, stated that the militia who control the city of Slavyansk in the Donetsk region have a person around 40, reports
RIA News"
.
"In captivity, today, only in Slavyansk there are about 40 people, as you know, and representatives of the OSCE mission. Now we are taking measures not only to free our employees from captivity, but also all other prisoners, "she said.
Previously, the "people's mayor" Slavyansk
reported
that they are holding 11 members of the OSCE military mission, including 8 Europeans and 3 Ukrainians suspected of espionage. The driver of the mission, a Ukrainian citizen, had already been released by that moment.
"We are applying measures to free them," Ostapenko said at a press briefing on Monday. In addition, she noted that while the militia has not put forward any requirements. According to the head of the press service of the SBU, she does not have any data on whether they were offered to make an exchange.
It is worth noting that on Monday, Ponamarev said that they still view the detained observers as prisoners of war and want to exchange them for supporters of federalization, detained by Kiev.
Recall that since March in the east of Ukraine rallies are held supporters of federalization. The authorities in Kiev began a special operation with the participation of the army, there are reports of dead and wounded.
The second phase of the special operation is the blocking of Slavyansk, which is completely controlled by the militias.