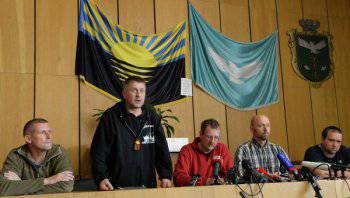 According to the
RIA News"
, "People's mayor" Slavyanskaya Vyacheslav Ponomarev said that they still consider OSCE military observers prisoners of war and want to exchange them for supporters of federalization detained by Kiev.
Earlier, Vyacheslav Ponomarev reported that an OSCE mission bus was detained at one of the roadblocks, in which there were 11 members of the military mission - three Ukrainians and eight Europeans. According to Ponomarev, they were suspected of espionage. He also noted that the mission driver, a Ukrainian citizen, had already been released.
"In the hands of the junta is a number of our associates, our comrades. If there is an opportunity, then we are ready for an exchange, "the" people's mayor "stressed. He said that recently SBU officers detained his deputy Igor Perepechayenko.
It is worth noting that Ponomaer refused to comment further on the negotiations with OSCE representatives, which took place on Sunday. It is only known that after them the militia agreed to release one detainee - a Swedish officer Yngwie Thomas Johanson due to "health problems" and "to demonstrate good intentions and the agreement capacity of the militias".