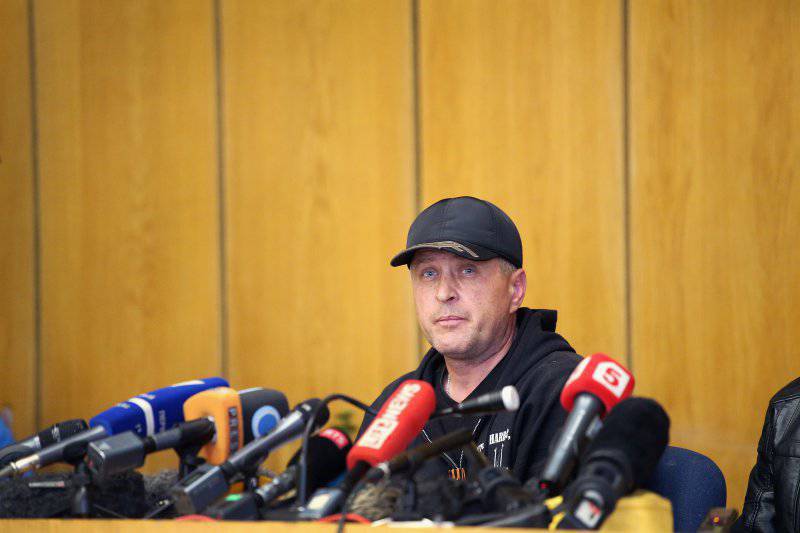 The correspondent of Gazety.Ru met with the mayor of Slavyansk Vyacheslav Ponomarev and asked him about the fate of the head of the city Neli Shtepy, what currency would be used on the territory of the Donetsk Republic and what appeal he would make to the US President Barack Obama.
- This is us in Kramatorsk, - the interlocutor shows a photo of the armed people at the buildings of the city department of the Kramatorsk police.
—
Yes, I was there yesterday. By the way, yesterday was not there weapons.
- This is not yesterday, this is when the first capture we did. There really was shelling. But we had a task - to do without bloodshed. On the third floor, they started shooting at the guys, and the guys put them down. Well, as they put, they did not kill, but they put out the fire. They sat down, and then we entered.
—
It sounds scary. But yesterday in Kramatorsk was without weapons. There even the police stood, smoked with the militia guys. It turns out they are on your side, or what?
- Well, they have nowhere to go. They live here, and if, God forbid, one of them goes against us, then ... pf (grins).
—
Are you not afraid of sanctions from Europe, the USA? After all, if the "Donetsk Republic" is formed, the reaction from the West will not be slow to follow.
.
- West is far, Russia is close.
—
But, for example, the same credit cards can block no matter what comes next, which is closer.
- No problem. We have our bankers with whom we can negotiate. This is a technical issue that is resolved with the consent of the interested parties. You see, if you need it, we will do it the way we need it. The main thing is that we have a common component.
—
And she is, this "component"?
- Our opponents now tried to break it in the form of Comrade Akhmetov, Taruta and others like them. They launch agents of influence into our environment, and those from the inside begin to disperse the core itself. Then everyone starts to go in different directions, they start each other. In Slavyansk this does not happen. That is, we definitely put our hand, said: to everyone who is with us - well. Who is against us is self-evident.
—
What do you mean, okay? Who is against you ...
- There will be destruction.
—
How?
- Well, how?
—
Even among civilians, even if one in a hundred, there may be those who hold other views! And what about them?
- They are here only from the power of 40 people.
—
So what, are these 40 people to be destroyed or what?
- There are monkeys that go to the zoo to watch. Well, they will be with us a separate coalition, but they will be controlled.
I'll tell you how the operational work is done. A flashlight lights up, moths flock to it. But in order for these moths not to fly away, there is duct tape. Or just slap a fly swatter ...
—
Scary you say
.
- What is scary? This is the harsh truth of life. But it is not scary when our boys' stomachs are opened, tortured, and then their bodies are found in the river! And then I go to the morgues and see: ours are not ours. I see, like ours, but I can't really recognize it. And then it turns out: this is the same Vladimir Rybak from Gorlovka. Until the identification is held, I can not voice this information. But by all accounts - this is it.
—
This is also very scary. (On Tuesday it became known that one of the two bodies found did not belong to the militia, but to Gorlovka Rybak's deputy. - "Gazeta.Ru") And the second body to whom does it belong?
- The driver, most likely. Have you ever seen corpses?
—
Not. I was not allowed into the morgue, a stern man said that everything is closed
.
- Listen, you better take pictures of the beauty and landscapes of our city. But leave all this dirt to someone else. You will be better off. Attempting to earn some financial dividends or fame is not good. When you take off death, you unwittingly become its participant. And when you make this death public, even worse. It sows panic, people have fear, and this is what our opponent needs. That's why I forbid everyone ...
—
Alright enough. Then the next question is not about the corpses. And about the presidential elections in Ukraine, which are scheduled for 25 May.
- Will not be.
—
In the Donbas will not? In Slavyansk?
- Nowhere will be. Believe me. Nowhere.
—
You will not allow? Someone else will not allow? Explain, please.
- We will take all necessary measures to ensure that elections in the southeast do not take place.
—
Up to what?
"Take someone prisoner and hang them by the balls." Really, you understand?
—
Lord, how terrible is what you say ...
- Yes, no, no, believe me. I am a kind person, very kind. But sometimes my kindness is taken for weakness, but it is not. I love children, I love my mother ...
—
Do you have children?
- Yes, I have a son, 26 years. But to me, 49 will be 2 in May.
—
And the wife?
- I officially divorced in 1995 year.
—
Friend?
- I feel better, alone. By the way, I lived not only in Slavyansk. The last time six years he lived in Kiev. He left otudova three years ago.
—
Why?
- Mom was left alone here ...
—
If it's not a secret, what work did you have?
- In my youth I received a construction education. And then, when my brother died ... He was a member of the union of realtors, he had a lot of real estate in Kiev, we had a good project to build a business center ... And my brother died - everything collapsed.
—
Probably not to ask ...
- He was hit by a car. And then somehow everything went downhill. Kiev has ceased to be built up, the crisis. I used to live modestly, that which I earn, I give to my mother and son. I do not need much, because I get a lot in this life simply without money.
—
You, I see, St. George ribbon on the jacket. What does it mean to you?
- This is the memory of the grandfather, of the war, of our ancestors, who gave their lives for our freedom. And since Russia is our ally in the struggle, there is also a flag, and other symbols (pointing to the Russian flag on the table. - "Gazeta.Ru"), I am not ashamed of that. Let them fear us, not we them.
—
And what is the alliance shown by Russia?
"Well, that's good support." It is moral. Because we otudova still have not received a single barrel, not a single penny, I honestly answer you. We get out on our own, pull up businessmen. It's okay We understood that war is such a thing. Moreover, many businessmen assist us. Tomorrow I, most likely, will gather all the businessmen of Slavyansk, those who want with us. I already had a conversation with bankers, in particular, from Kramatorsk, where I went with a whip.
—
In local Privatbank?
- Well yes. Privatbank from Kramatorsk.
—
And what kind of "lash"?
- This is actually the name of the gun. Well, it is, boy.
—
You appealed to Putin at a press conference in Slavyansk with an appeal to bring in peacekeeping troops, weapons and food. Now you are talking about friendly relations, alliance. Any contacts possible?
- If contacts are, they will. We hope to be heard.
"In Donetsk, the ruble will be used"
—
How is coordination with other rebellious cities of Donbass built?
- It is already built. Personal contacts, dating, friendship, no papers, signatures.
—
Are there mayors like you? Any key pieces at each point?
- Why did it start from Slavyansk? Because throughout the Donetsk region and Slavyansk unambiguously in all cities was ahead of the rest.
—
What would you say to residents of Western Ukraine?
- (Long silence.) Surrender! (Laughs)
—
What language will be the state in the DNI?
- Russian.
—
Ukrainian will not be?
- No question, they will talk on it, sing songs.
—
Is Yanukovych still a president?
- Yes he went ...
—
What will you do with the minority, which is still subject to Kiev and considers itself part of Ukraine?
- Yes, let them live, only this way.
—
How?
- It is low. Quietly let them behave.
—
What would you say to Obama, who claimed that the rebels were acting on orders from Moscow?
- You would, Obama, was silent.
—
What currency will be used in the DPR?
- Ruble. Russian full-weight ruble.
—
Your prediction. The situation cannot remain the same as now, you understand.
- Of course.
—
What will happen next? What are the possible solutions to the conflict?
- Will live. The executive committee is working. How is Slavyansk different from others? The fact that we have a long time to tell everyone nothing. Everyone knows what to do. Gut smell.
—
So you think that a city in such a position as it is now can continue to exist for an arbitrarily long time?
- Excuse me. About two weeks have passed since we started all this. So? I just have not days. They go to me with one film. There were days when I slept only three hours in five days. I'm sitting at the meeting, I'm not getting sleepy, and I answer: even if my eyes are closed, I see you.
—
How do you feel about the fact that, according to some polls, the residents of Donbass want to remain a part of Ukraine?
- Who? For the city of Slavyansk, I told you - their 40 people. All the rest are paid titushki (silent laughter).
—
Who would the presidential candidates of Ukraine hold talks with?
- With no one.
—
Russian journalists are now hard to get into the territory of Ukraine. Do you plan some kind of symmetrical answer?
- Yes, there you are. The American is sitting with us ... We need prisoners. You need a small change, you know. A lot of our comrades are closed, you know. They take them, drive them to Kiev, torture them. Well, and we are doing the same thing. Well, in a sense, we take prisoner.
—
So you still keep Simon Ostrovsky? Simon's parents who contacted you during a press conference on Tuesday until you wait for your son?
- Yes, what they want, let them do it. We are on our territory.
—
Is Nelia Shtepa also among those who are currently detained on the same grounds?
- A criminal case was initiated against her on the fact of separatism. To prevent her being stolen, we decided to take her under protection. And since her house is far from the city, that is, we cannot leave our people there, it is easier for us to keep her here. She has good conditions, a shower, a toilet, a hairdresser comes to her, her relatives go to feed her, warm clothes, everything is fine.
—
I do not want to offend you with a question, but apparently you have a combat past: you do not have enough index and middle fingers on your left hand.
- No, just non-compliance with safety regulations. Nowhere is there any evidence of my participation in any operations.
—
You yourself spoke at a press conference that you participated in a special operation.
- Yes, in a special operation, of a different kind. So what? Nowhere is this.
—
About you in general, very little information can be found.
- Well, thank God.
—
Finally, I would like to ask. You have already spoken about Obama. What would you say to Putin?
- Vladimir Vladimirovich, I am grateful for your moral support. I can not hear the words, but at a distance I understand that you are with us with your soul. We don't need to talk much. We can do this.