On May 9, the Russian capital will once again host the Victory Parade. By tradition, it will be attended by servicemen of all military branches, as well as armored vehicles and
aviation
. In total, about 20 thousand military personnel from military educational institutions and military units of the Armed Forces of the country and other power structures will pass along the paving stones. The musical equipment of the Parade is entrusted to the combined military orchestra, consisting of 1,5 musicians. Colonel General Valery Gerasimov, deputy chief of the General Staff of the Armed Forces, will command the event, and Defense Minister Anatoly Serdyukov will take over
In addition, 100 units of military equipment will take part in the parade. Among them
Tanks
T-90, BTR-80 armored personnel carriers, Tiger combat reconnaissance vehicle, Msta-S self-propelled artillery systems, Buk-M anti-aircraft missile systems, Iskander operational-tactical missile system, Topol strategic missile system -M "and the S-400 Triumph long-range and medium-range anti-aircraft missile system and the Pantsir-S1 self-propelled anti-aircraft missile and gun system.
Five Mi-8 transport and combat helicopters will participate in the airborne part of the Parade. They will carry the flags of the Russian Federation, the Armed Forces, and also their types - the Ground Forces, the Air Force and the Navy - over Red Square.
fleet
.
The Victory Parade will be completed by the famous march "Farewell of the Slav", which will celebrate its 100 anniversary next year next year.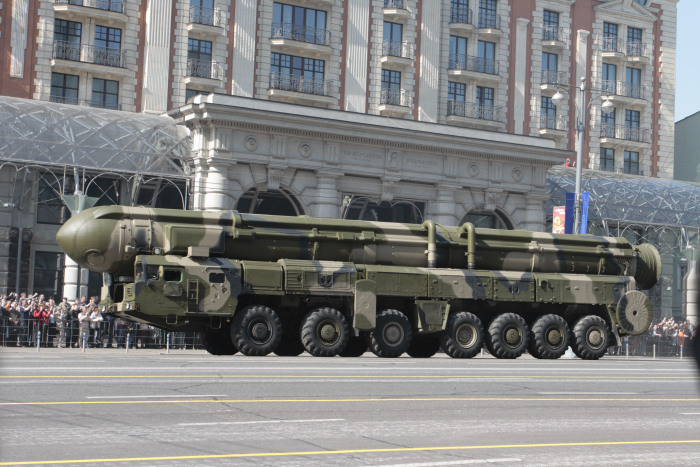 "Topol M"
- strategic missile system with intercontinental ballistic missile 15Ж65. The maximum flight range is 11 thousands of kilometers. The rocket carries one thermonuclear combat unit with a power of 550 kilotons. Topol-M is based both in mines and on mobile launchers.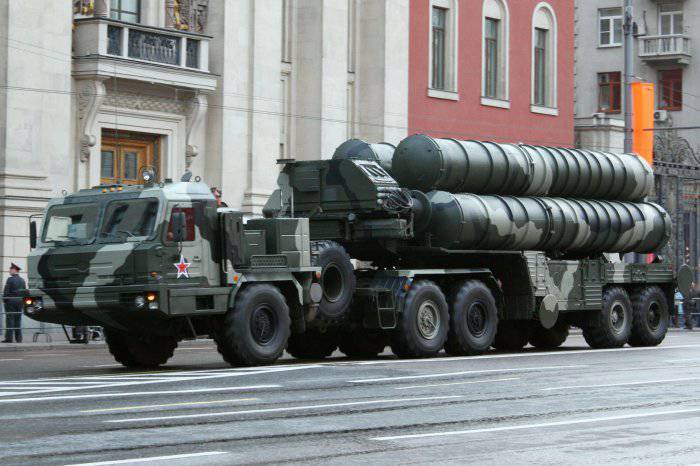 "Triumph" C-400
- long-range and medium-range anti-aircraft missile system. Designed to destroy all modern and aerospace attack. Each air defense missile system simultaneously provides shelling to 36 targets with guided missiles up to 72 at them. The target detection range is 600 kilometers, and the hit range is 400 kilometers. The maximum height of the lesion is 30 kilometers.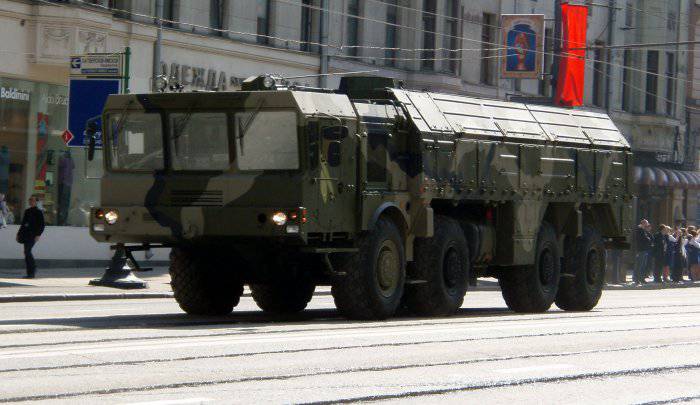 Iskander
- operational tactical missile system. It is intended to destroy the means of fire destruction, anti-missile and air defense, command posts and communication centers of the enemy, airplanes and helicopters located on airfields and the most important civilian infrastructure. Missile launch mass: 3 800 kilogram. The mass of the warhead: 480 kilogram. The length of the 7,2 meter. Diameter 920 millimeters. Minimum target range: 50 kilometers. Maximum - 500 kilometers.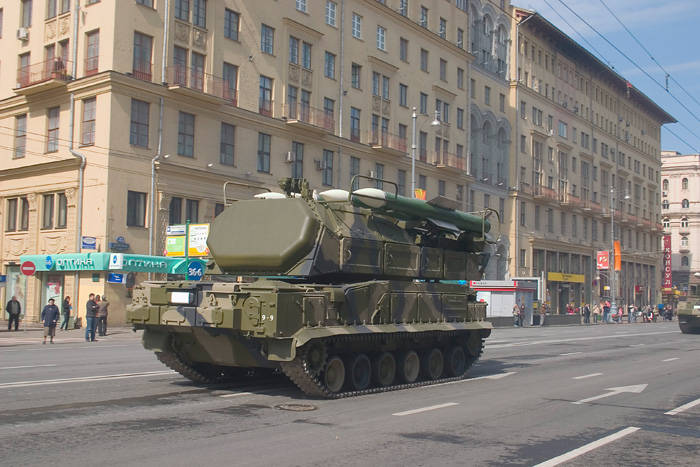 Buk-M1-2
- an anti-aircraft missile system designed to protect troops and objects when they are in place and during offensive and defensive actions from attacks by enemy aircraft and helicopters. Target detection range of at least 100 kilometers, simultaneous detection of 24 targets and firing 10-12 of them. 15 reaction time seconds.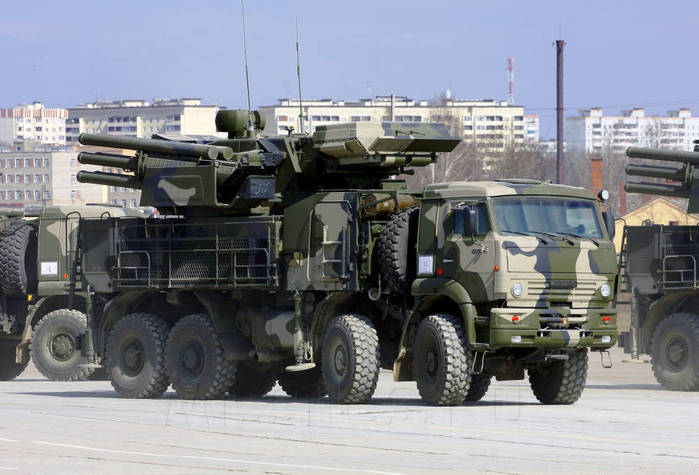 ZRPK Pantsir-X1
- ground-based self-propelled anti-aircraft missile and gun complex. Designed for short-range cover for civilian and military installations from all modern means of air attack. Air defense is carried out by automatic guns and guided missiles with radio-command guidance. In addition, the complex is able to fight against lightly armored ground targets, as well as enemy manpower. The maximum capture speed is equal to 10 targets per minute. Crew 3 man. Weight - 20 tons. Deployment time for 5 minutes. 4-6 reaction time seconds.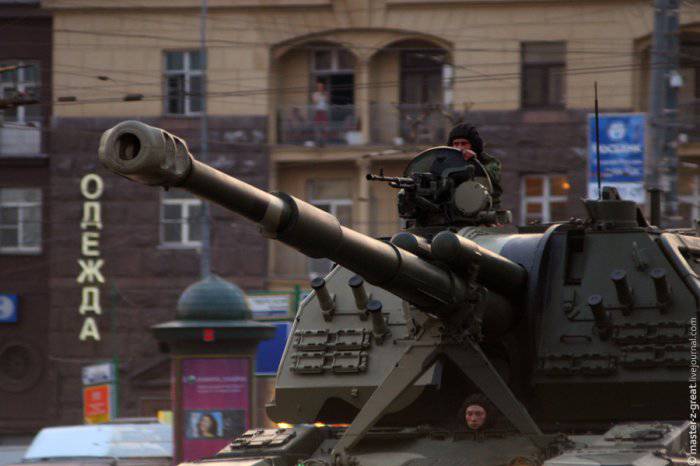 SAU "Msta-S"
- self-propelled artillery installation class self-propelled howitzers. It is intended for the destruction of tactical nuclear weapons, artillery and mortar batteries, tanks and other armored vehicles, anti-tank weapons, manpower, air defense and missile defense, and so on. Rate of Fire (7 — 8 rds / min). Ammunition of guns 50 shots. Firing range to 30 kilometers. Weight 42 tons. Crew 5-7 people. Cannon caliber: 152,4-mm. Maximum speed on the highway 60 km / h.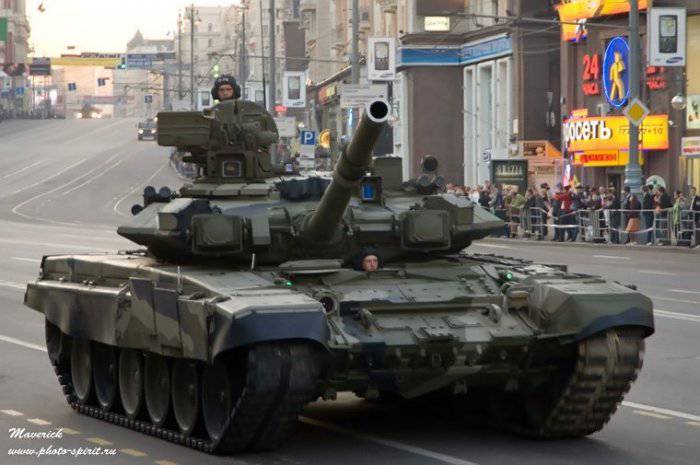 T-90
—The main battle tank. Combat weight 46 tons. The length of the body is 6,8 meters. The width of the 3,4 meter. Smooth-bore gun caliber 125-mm. Combat kit 45 shots. Maximum speed over rough terrain 60 km / h. Crew 3 man. Armor thickness 800-830 mm.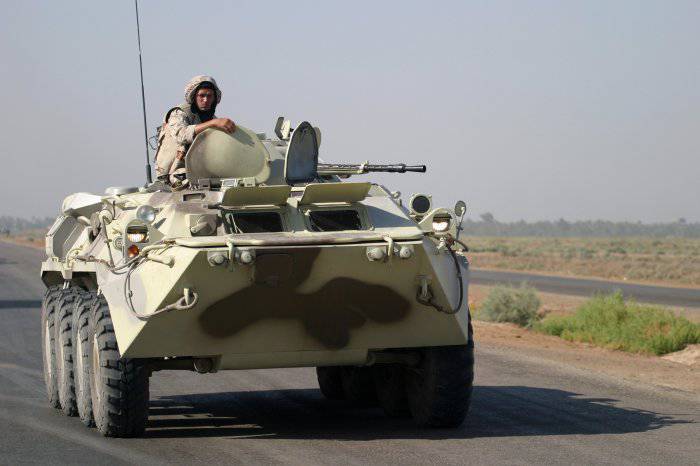 BTR-80
—The armored troop-carrier widely used in motorized rifle troops. Mass 13,6 tons. Crew 3 man. Landing 7 people. Armor thickness 7-10 mm. Maximum speed on the highway 80 km / h.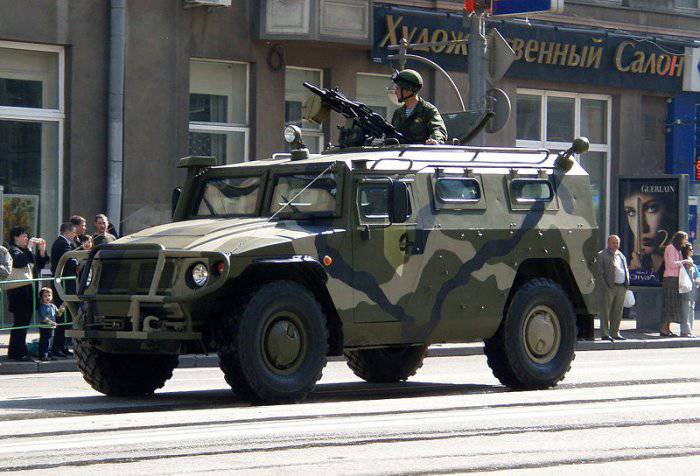 Armored car "Tiger"
- Army off-road car, modification of the GAZ-2330 "Tiger". Produced at the Gorky Automobile and Arzamas Machine-Building Plant. Combat weight 5,3 tons. Capacity - from 2 to 10 people. The maximum speed is 125 — 140 km / h.