Just admit it. You would also like to be in Putin's place now. His enemies are afraid of him, his allies are grateful to him, women are drawn to him, Jimmy Fallon is parodying him, even Edward Snowden is eager to talk to him. Paraphrasing the great geopolitics and political scientist Alicia Keys, we can say that this guy is a fire.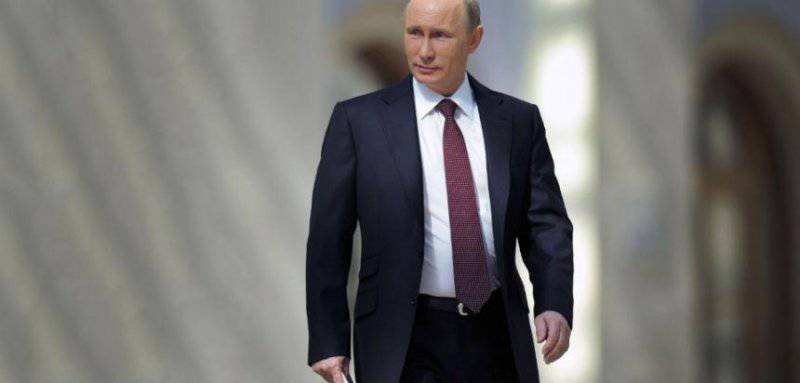 Of course, the economy of his country is rapidly going to the bottom, but what does it matter to a person whose personal fortune is estimated at billions of dollars? (Cool, after all, the KGB has a pension plan!)
Yes, Barack Obama believes that Putin's actions harm Russia itself. However, the Russians - those same voters who would be responsible for electing Putin as president if at least someone really considered Russia a democratic country - approve of their leader's actions: Obama would probably be ready to kill someone for such ratings. And the agreement on Ukraine, which 17 of April concluded between Russia and the West, is likely to ease international tensions, leaving Putin with most of what he wanted.
Of course, the annexation of the Crimea will cause many problems: this region is on the verge of economic collapse, and the construction of infrastructure that will connect it with Russia will cost billions of dollars. However, the act of annexation itself helped to cheer up the dejected Mother Russia and, in addition, to accomplish it, Putin only needed to raise his eyebrow, as a villain from the "Bondians." And the sanctions with which the West decided to answer this cannot even be called "surgical" - they are more like pinpricks. I offer the West a new advertising slogan: "Atlantic Alliance: masters of foreign acupuncture".
Putin's triumphs can be listed for a long time. I suspect that this list would be even longer if we knew about all the money flowing to Putin's secret bank accounts. (That is, "supposedly flocking". Perhaps, flocking, if he, in fact, takes a fair amount of the wealth of his long-suffering country.) But even without that, he is impressive. And we have every reason to believe that by the end of this year of miracles he will have time to replenish more than once.
However, the bloodless annexation of the Crimea and the increase in popularity caused by it within the country is not limited to - Putin also managed to divorce and (according to rumors) contact the champion in rhythmic gymnastics. Then there was the Olympics in Sochi, which, if not to dwell on flocks of stray dogs and problems with plumbing, was extremely successful for Russia. And before that, Russia brilliantly played the foreign policy gambit, preventing America's blow to its Syrian ally, and increased its international influence by taking an active part in the nuclear talks with Iran. And although Foreign Minister Sergey Lavrov cannot always reach the Kremlin, and some in the US government call him a "slug" (which is unlikely to be considered a compliment even in Moscow), Russian diplomacy is now stronger than ever before. two decades. Of course, do not forget about
stories
with Snowden, whose unexpected landing in Moscow allowed Putin not only to hurt the West, but to deliver a double blow to him. Russia at the same time gave shelter to a man whom many consider to be a hero for exposing the abuses of the US special services, and almost certainly got access to the precious information stored on his hard drives.
Putin's maneuvers are confusing and hypnotizing his critics. Of course, many in the West call them, at best, irrational, but, in fact, it would be better to call them "insanely successful." What is irrational about systematically promoting national and personal interests, using other people's weaknesses and your strengths? The Putin Kremlin is behaving just this way - and just like all successful world leaders have behaved and will conduct themselves. Moreover, the Russian president is clearly slowly bringing his American counterpart. He constantly teases Obama and tries his strength, keeping at the same time from key American interests at a sufficient distance so that a direct and tough response from the US would look inappropriate. It remains only to regret the unfortunate Angela Merkel, who has to communicate regularly with Putin - including because his relations with Obama, in the words of one high-ranking American official, remain "extremely complex. As a result, it has to simultaneously pursue a hard line and avoid confrontation that would destroy the fragile achievements of the recovering European economy.
It seems that everyone now only think about Vlad. Could we imagine it ten years ago?
Worse, ahead of Putin, apparently, are waiting for even better days. Considering how many soldiers are gathered on the Ukrainian border and how many spies and special forces muddy the water in the country, Russia will most likely be able to achieve its goals even without an invasion. The diplomatic deal, which has just been announced, may well help this, although, at first glance, it seems beneficial to all parties. Having begun to rewrite its constitution, Ukraine will most likely come to a more loose federalist system, which Putin sought from the very beginning. The eastern regions will get autonomy, which will allow them to move closer to Moscow and move away from Kiev.
However, a political victory in Ukraine may not be the main triumph achieved this year by Putin's policy, which involves straightforward and rude actions in the face of unsure and divided allies. Undisguished aggression in the Crimea looks shocking, but it is nothing compared to the blow that the victory of Bashar al-Assad in Syria would be for the West. Assad is a mass murderer using chemical
weapon
against his own people (and this is the least of his crimes by the number of victims). He seemed doomed to go to the dustbin of history following Mubarak and Ben Ali. However, he is now winning the upper hand in continuing to devastate a civil war. Barack Obama has long urged Assad to step down. Now this is unlikely to happen. Putin, who calmly concluded that Assad could be the perfect bastion against Islamic extremism, organized international support for this war criminal. If something does not change the course of the war, the determination of Putin, Assad and the Iranian Syria supporting the regime will ultimately triumph over the fragmented forces of the moderate opposition, which America and the West have been lax and weak.
The fact that the United States will try to restore working relations with the Russians, without cooperation with which the Obama administration will find it difficult to solve the Iranian problem, helps Putin look even stronger.
Undoubtedly, nothing lasts forever. Sooner or later, Putin's successes will also end. In the end, although Putin is proud of the victory won in South Ossetia and Abkhazia in 2008, he pushed the rest of Georgia straight into the arms of NATO. The western regions of Ukraine and the countries of Eastern Europe will now also ask for additional protection. As a result, they will almost certainly have new ties - not only with the European Union, but also with NATO, which, finally, will begin to rethink and update its tasks. Nothing invigorate such organizations like the presence of enemies. Europe will seriously concern itself with its dependence on Russian gas and start reducing it. For Russia, this will not be such a painful blow as it seems to many: there are many people in the world who want to buy something that Europeans will not buy. In particular, their number includes China. However, in the long run, as a result of Putin's current actions, Russia's influence in Europe will decrease.
All this is not too favorable for the Russian economy. Putin's antics also clearly will not help with the country's demographic problems. Moreover, Putin's crude tactics may well increase the likelihood of rising tensions in the "near abroad," especially among slowly boiling Muslim communities seeking autonomy. And the atmosphere at international meetings in the coming years is likely to be very cold. However, she has become such a long time ago? Putin, like Obama, has never harbored too long hugs in the spirit of Yeltsin and Clinton.
Maybe someday we will remember Putin's best year as a regular and short-lived triumph. In essence, the direction in which events are moving does not promise anything good for Russia. However, Vlad will save his (estimated) billions in any case - and he will continue to enjoy personal rhythmic gymnastics lessons.