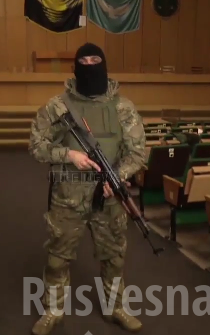 The fighter of the 25 Division of the Airborne Forces of Ukraine, who sided with the militia of Kramatorsk and Slavyansk, gave an interview to lifenews.
- In the beginning we had a clear position - to carry out orders. But later it became clear what kind of people are sitting in the new government and what orders they give. "Right Sector" worked with us in some operations. I changed my position after I realized that people in Ukraine are afraid of their own army.
The former military 25 Brigade of the Airborne Forces told that the authorities had attracted militants from the Right Sector to shoot civilians. The soldiers themselves, according to him, have not yet ordered to shoot at unarmed people, but everything went exactly to this.
- In Kharkov, people with
weapons
from the "Right Sector" shot at civilians. I myself was not with them, but the guys from other divisions of the Airborne Forces, who saw this, said that their power was directed specifically for this. I do not want to be with them. I don't want people with unauns flags to be in power. The "Right Sector", BlackWater mercenaries or UNA-UNSO do not have the right to tell me which language I should speak.