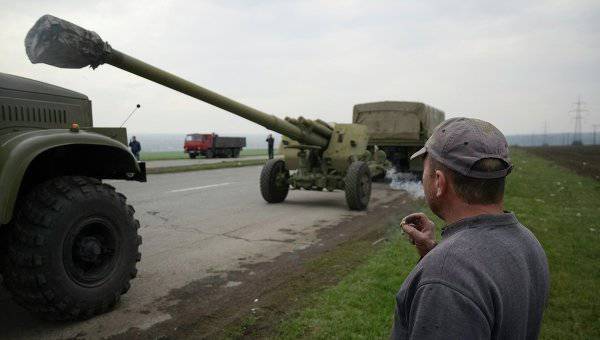 The junta, apparently, collected everything she could in Raisins. In total, this is about 2 thousand paratroopers, about 30 infantry fighting vehicles, armored personnel carriers and armored personnel carriers, about two dozen
tanks
, barrel and rocket artillery. There are helicopters and attack
aviation
. Special forces of the Ministry of Internal Affairs plus the National Guard, which is mainly represented by former explosives, are also brought up there.
A separate question is how much all this equipment is combat-ready and how motivated the personnel is, but there is no doubt that this whole machine is capable of shedding a lot of blood.
The fact that it was decided to launch an army, heavy equipment and artillery suggests that there is no prohibition for the junta to destroy civilians.
In the morning, Obama and Putin demanded from each other to influence the junta and the rebels - but it seems that now the decisions have been lowered to the lower level, and much depends on the unknown colonels and majors. No need to assume that in the Ukrainian army there are no people with pereklininavshih Bandera ideas brains. Moreover, the frantic propaganda of the last months - in general, it's naive to hope that the punishers gathered will not risk shooting at the Ukrainian city: if there is a team, they will shoot.
Most likely, the operation itself, if it is launched, will turn into a colossal mess from the very beginning - if the Ukrainian military managed to shoot the Ukrainian security forces under Slavyansk simply because they could not understand xyxx, it is not difficult to assume that they will act approximately the same during stripping. This team, of course, will be able to take - or rather, destroy - Slavyansk, but most likely it will be the last thing it will be capable of.
Considering that the Kiev junta has a long-term and strong connection with reality, it hardly represents the consequences of such an operation - it is not worried about the number of possible victims, nor what it will remain after it. Therefore, to refer to her and to her mind is already meaningless.
Perhaps now the only thing that can stop this grouping is no longer traditional diplomacy, but direct contacts of the military. The most effective in such a situation is to warn the Ukrainian military about a possible retaliatory strike from the Russian side in the event that the operation starts. They have about the same chances of resisting such a blow as the rebels are against punitive. I hope that our military men have already communicated with their colleagues on this subject - and here is the result, let's see.