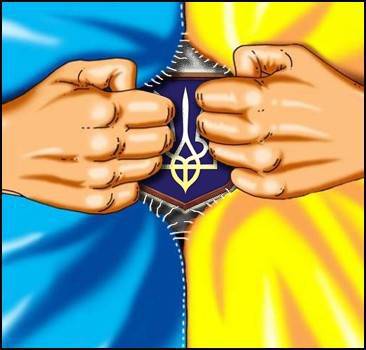 Someone (ts-ss-ss ...) quietly remembered Euromaidan. On the Facebook page of the main site of the "revolution of dignity", where the obsolete prefix "Euro" falls off the name "Euromaidan", they posted a timid announcement. «Із-за бездіяльності ваді, centurions із # EuroMaydan'u ask everyone to come back to the Church on 19-00. The stench of vvovayat, scho dostipit patiti bezdіyalnіst law enforcement bodies. "Sotniki to ask," "Sotniki in a respect." Suddenly, the cowardly-reinsurance vocabulary of the thousands of euro-infantiles that went to Euromaidan in order to substitute their shaky ridges under the shield and bring in it cheering Ukraine through the front gate. Directly to the European Union. Instead of triumph - economic disruption, shocked people with shifted notions of dignity, the first pathetic loan in 1 billion from the EU and front-line
news
from the southeast, flashing the air at the speed of a Morzian. Slavyansk taken. Gorlovka taken. And Kramatorsk taken. Makeevka also taken. Local police went over to the side of residents. Created by the people's army. Established People's Republic.
Networking ladies and hypocritical politicians left out of business in the "fight against" terrorism "click through:
"Donbass, Heavenly hundreds died for you!"
. The one allegedly a hundred, neatly wedged and tamped into a beautiful arithmetic template. She may have been ready for an exciting battling bats. But she definitely didn't expect that in the name of the revolution, everyone in it would look around in a huff and immediately fall onto the pavement, like a toy in the dash.
"My dad killed the regime of the golden toilet."
Taken at random, the targets of the generation, which had another revolution with the next coup. And now her langoliers quietly eat up all the questions hanging in the air and unexplored evidence.
But the "meat" still does not want a gun and grumbles. So you can regard the long post of Irina Gerashchenko, the former Yushchenko's "our Ukrainian", and now - the same convinced Klichkov's "punch", but still the owner of the enviably serene round face of a person who is not accustomed to something to doubt. The heroine rode through the military units and was horrified. It turns out that soldiers mobilized in troubled times did not appreciate the honor that they had been rendered. Instead of kirzachami trampling the fragments of mining helmets into the ground, they, you see, grumble. Long
история
wars and conquests proved long ago that soldiers grumble when a seditious thought creeps into their foreheads, crowned with all sorts of different coats of arms: who am I in this war, who am I fighting with and what for my family, why my commander-in-chief is such a scoundrel.
«
Recently, I have been meeting a lot with the mobilized military. So, 90% of their questions are not about tactics and plans to defend Ukraine, not the strategy of upholding Ukraine, not buying new equipment and weapons, not fostering patriotism, but only money-money-money. You lowered your pension by 10%, you didn't pay us 10 mobilization days in March, we have beggarly salaries "
- complains Irka- "punch".
"Our 20 army has not fought with anyone for years and spent time mainly in military camps and offices, and not on the parade ground, our so-called political instructors, even now at a meeting with the people's deputy, do not raise the mobilized spirit, but nostalgic for the salary lieutenant in the USSR.
"Udarka" cannot understand why at a meeting with the brilliantly clamored "people's deputy" who has been warming himself for many years in the hall of parliament and receiving a salary several times higher than the teaching staff, the soldiers do not show off, look gloomily and talk about debits credits. To try to get into these greedy soldiers' souls is no use. Look tin. Comb it. But the stubborn girl who has assumed the role of stimulating the morale of the motherland, is not going to retreat - the battle is lost, but not the war. With her familiar, clean Facebook audience she explains what Ukraine is and what a true Ukrainian is.
"...
After all, Ukraine is not only a hryvnia, but also a territory, our land, culture, language, our principles. Today we need to foster patriotism, explain that in a state of war we must tighten our belts, protect the land and be proud of it. Every day, you need to ask yourself the question: what have I done for Ukraine today? Not Turchinov, Yatsenyuk, Klitschko, Poroshenko, Tymoshenko, but it was me! The understanding of their mission, the sacrifice and social responsibility of everyone today is very necessary. "
In the postscript Gerashchenko casually adds that
"Power must be more professional and decisive. And tomorrow I will go to Cherkasy region, to the military ".
To whom the "people's deputy" asks the question "what have I done for Ukraine today?". Probably, doctors who, for a humiliating salary, help new Ukrainians to be born, so that in seven years, semi-literate rural teachers for humiliating salaries teach these Ukrainians about patriotism, social responsibility and civic dignity.
The supreme supreme leader of potential deserters Turchinov is also concerned about social and civil responsibility. He signed a secret decree on the start of a large-scale anti-terrorist operation involving the Ukrainian armed forces. And at the same time gave birth to two fateful "message."
In the first did not rule out the possibility of holding a referendum on May 25, in which, in his opinion, the people
"Will speak in favor of an indivisible, independent, democratic and unitary Ukraine"
. In a month and a half, one can prepare for a referendum - but a lip one, just like unplanned no-presidential elections, in haste and with a nonexistent comprehensive legislative base.
In the second, he expressed a desire to conduct an anti-terrorist operation in the Ukrainian east not only with his own internal forces, but jointly with the UN peacekeeping forces.
"We do not object and welcome, if with your help a joint anti-terrorist operation in the East is carried out. Then the experts and observers themselves will be able to confirm the legitimacy and legitimacy of our actions. "
, - proposed Turchinov to UN Secretary General Ban Ki-moon.
Paranoia. Turchinov does not trust temporary supporters, sponsors, himself, his angel on his right shoulder and his line on the left.
First Deputy Prime Minister Yarema also reinsured, saying that as a result of anti-terrorist operations during the release of buildings and hostages "
terrorists "
can kill
"Someone from elderly people in order to cause outrage of the population."
According to Yarema, women who are living with a human shield in front of the barricades need to be talked about with zombies on Russian TV, they need to be persuaded. And this is what the "special forces" are doing.
"People are offended, they watched Russian channels and now they believe that only Russia will save them. In Ukraine, the junta, and the one who speaks Ukrainian-a fascist. People have only such rhetoric, and no longer perceive anything ",
- unconsciously contradicts the Turchinov belief in the single people of Yarem.
Tymoshenko, who had just been rehabilitated by the Supreme Court in the "gas" case and inspired by the night session of the UN Security Council angels, also calls for an all-Ukrainian mobilization and a large-scale anti-terrorist operation. Aggressively calls, bloodthirsty, not caring about the collateral sacrifices of these poorly staged theater wars. "
I also ask the world's leaders for direct military assistance to the Ukrainian people, who are fighting for their freedom, who are dying for this freedom. "
. They called terrorists armed "Easterners" at the Security Council, get into the general body of responsibility, this woman wants to impress.
Ukraine is shared What does a "peresichny" person think, sitting in the kitchen of their Slavic or Makeevka apartment, reading the irresponsible statements of people among whom there are presidential candidates? What is the principle of choosing? Uses the last refuge in meaningless dilemmas: "out of two evils"?
Even the most recent, non-militant, soft-bodied and indifferent man in the street begins to understand something. For him, impersonalized by the politicians of one hundredth of the ordinary Ukrainian, and not the "heavenly" hundreds, the worst thing is uncontrollable hypocrisy and cynicism, instantly crushing his private, economic, social security. People do not unite in states so that states drink blood from them, solemnly leading by the nose at every step. When hypocritical calls for "save the homeland" see only plump snouts, which pop up under any circumstances, I want to finally give them complete freedom of action.
After all, they so sought it all these years.
Curtain, gentlemen!