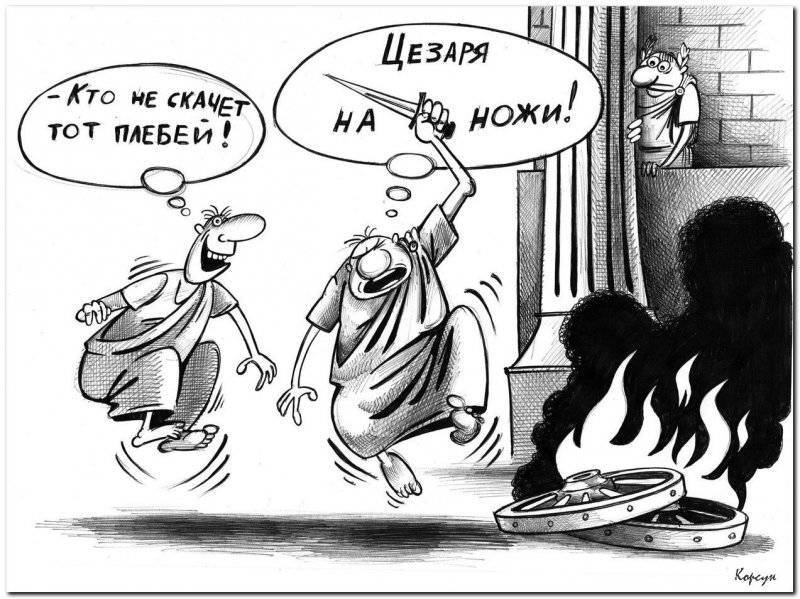 Well hello my new enemy! Say, you have not yet? Yes, you heard right, now we are sworn enemies. Surprisingly, yesterday we were brothers, friends and citizens of one country, we studied in the same schools, walked the same streets, worried about our national football team, and today we are looking at each other through the sight of the machine gun and everyone is ready to pull the trigger.
You, probably, are now tormented by the question: how could this happen to us? After all, everything was so good.
Everything is very simple. All because once you thought you were the main person and decided that you could decide for everyone without asking anyone for permission. What for? After all, it is always possible to say that all who are against it are all paid-off titushki, slaves, scoops, slaves, moskaklennye schidniki, Kremlin litter, invaders and temporary guests on your "Batykivshchyna". So convenient and conscience does not torment.
What? You say that you have never said such a thing and always respected the opinions of others? Then let's try to remember how 21 November you went to the Maidan, trying to defend their right to the European choice. Then there was nothing special about this, because everyone has the right to protest. But it was from that moment that the gap between us began to expand rapidly and soon became insurmountable.
You did not think then that the country still has literate and educated people who can read and analyze, who may have a completely different point of view. You didn't even think that far from everyone wants to step into the EU and not everyone is impressed by the slogan "Ukraine is Tse Europe" and other chants. You were not up to it, when the center of our beautiful capital was first transformed into a campground, but not yet of strict regime.
Then you decided that just to stand to no avail, when you can go and take the Cabinet of Ministers and Parliament. Well, yes, you were not allowed to do this by some uncles in astronauts' suits and you were very offended by them because of this. The fact that they also did their work with you and thought did not arise. How so? They are the servants of the people, and I am the very people, which means that everything is possible for me, so then you argued? Only here you have forgotten that the people are not only YOU, but also I, and there are many people like me and they also have their own opinion and opinion on what is happening. Instead of thinking for a second, you kept shouting about sales titushki, cops, corrupt officials and other inhabitants of the underworld. Righteous anger divided your world in two: on its own and others, it drove you to the enemies and henchmen of the "sinister lord."
But suddenly they fought you back, the authorities showed character. And then you began to howl about the unfortunate children, forgetting that a couple of days ago these same children beat and burned the same Ukrainians, who, by coincidence, were in their way. This you considered sufficient reason to begin the seizure of buildings. It was a beautiful revenge for the "beaten children."
And then everything developed as in the Tale of the Fisherman and the Fish. You demanded justice and punishment of the guilty - your wish was fulfilled, you demanded Azarov's resignation - he left, you demanded negotiations - they gave you, you demanded the repeal of the "dictatorial laws" on the ban on wearing masks and other things - they were canceled, you demanded a return to the Constitution 2004 of the year - agreed to this, and finally, you demanded the resignation of the president - and this requirement was met. But each requirement fulfilled only inflamed your insatiable desire, and now you have completely imagined yourself to be God and creator
stories
capturing arsenals with
weapons
, removing unwanted officials and politicians, and out of submission. Even the surrender of Yanukovych and the blood seemed to you a sheer nonsense, and you decided not to wait until the morning, but to act right here and now. And so you won, the revolution has come true.
But what have you achieved? Watch carefully!
The same people are in power, the country's economy is ruined, nazi rooks and armed gangs rule the streets. Have you fought for it all these winter months?
Did you want to subdue the oligarchs in power and make them share? Now their power is only consolidated and they already, without hesitating, are commanding entire areas and branches.
Did you want to Europe? Now everything is reminiscent of Africa or the blazing Middle East. Around the gangs of incomprehensible Aborigines with sticks wield and do whatever they want. Meet, now they are the owners of a new life.
You fought against Cop lawlessness? But now you can not go out without a gas cylinder or a stun gun.
Did you fight against corruption? But now all those who are not lazy around are charging a "revolutionary dues" by right of the strong, and at the top they are selling the country to everyone who wants it.
Do you want a pension like in Europe? But now your revolutionary government is telling you to roll your lip, because it will only get worse.
So what have you achieved? Nothing. You stayed again at the broken trough, as in 1991 and 2004. You were raped again and are now being driven back to the stall.
But you do not give up. Now you find someone to blame for everything. We have become the root of all evils - all the same separatists and titushki. In short, all those who do not want to live with you in a ruined country and do not want to pay your debts. You are screaming about "traitors" at every corner when you see Russian tricolors, Soviet and regional flags, and you hear demands for withdrawing from the "independent colony". Anger overwhelms you and you still don't understand how this happened?
And everything is very simple. Just now, I DO NOT WANT TO LIVE WITH YOU IN ONE COUNTRY, which in three months turned for me from my Homeland into a hated Alien. All that used to cause pride, now causes only contempt: the anthem, flag, symbolism, heroes, even the mova, which recently seemed to be a nightingale, now resembles the language of fascists from Soviet films.
Now you have proclaimed a new goal - the struggle for the One and Indivisible Ukraine. Late! Ukraine is no more, ended, burned on the Maidan, bled to death. You yourself drove a knife into her heart when you first came out on November 21 street. Now I, like all free people, hate this state, which is absolutely exactly called Bandershtat. But whoever said anything, I'm not going to leave this place. Moreover, now I understand how different we are and will never be brothers. Now I am ready to defend my opinion and even with a gun in my hands. I simply have no other way out. Now you are my enemy, who deprived me of my homeland. And with the enemies you need to do, as it should be in accordance with strict martial law.
We will surely win back Ukraine and it will flourish again as before, and you will take your place where you got from and where you are supposed to be - at the dustbin of history. There you are already waiting for your national heroes - Mazepa, Bandera, Shuhevichi and other scum.
HOW AND IN 1945-M, THE ENEMY WILL BE BROKEN, AND VICTORY WILL BE MANDATORY FOR US.