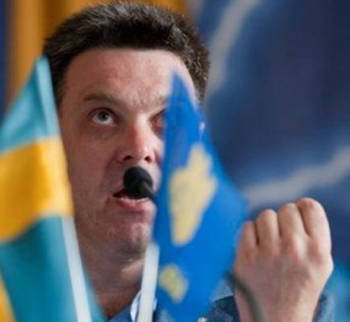 In Ukraine, the predicted bloody mess continues. Kiev junta applies firearms against citizens of the South-East
weapon
. There are injured and dead.
In order for this bloody mess to seem something necessary and correct, in parallel with the repression, arrest, torture and executions, a special operation is conducted to find a mess in the heads of our fellow citizens. That is propaganda.
Propaganda, as always, aims to make people start to be ashamed of what they should be proud of, justify those who cannot be spared, enter the position of those with whom you can and should speak only the language of force.
At the moment, the main propaganda techniques are already settled, crystallized, and they can already be disassembled.
I took on this uncomplicated work.
Let's get started.
1. Stolen Crimea
A. Yatsenyuk: "We will never reconcile with it, and the time will come even during our life with you, when we regain control of the Crimea. And those who have done this will apologize to the people of Ukraine for having robbed us. "
A. Nevzorov: "If Crimea had been taken from a strong, rich, brave country, it would be a noble and honest victory. But he was taken from a bleeding, wounded, immobilized country. This is called looting. The wounded man, from whom the boots had been pulled, while he was lying unconscious, would recover and ask: "Where are the boots, damn it?"
Unknown nepolzhivets in LiveJournal: "While the neighbor's house is on fire - chop off his barn. Is this not looting? "
What should immediately strike the eye in these theses, if intoxication with anti-Russian propaganda has not yet reached your terminal stage?
The fact that people (Crimeans) equated to property - cows and boots. The logic used by the sources of these highly moral claims to immoral us will be valid only if we seriously believe that Crimeans do not have any right to determine their own destiny, to be protected from attacks on their freedom and dignity. This is the logic in which people are a thing. Not a subject, but an object of relations between Ukraine and Russia, having no rights - serfs, sold once to a pan from a post-Soviet Ukrainian administrative clan and, therefore, lost due to this sale the right to human freedom.
If you apply this method of anti-Russian propaganda to you, you should remind your interlocutor that people are not property, Crimeans are not serfs, not boots, and not cows. Crimeans are our brothers, and when they are threatened, it means that they threaten us, when they humiliate their national dignity — they humiliate us, when they are tried to deprive them of their freedom, they deprive us of their freedom.
2. Take advantage of weakness
A. Merkel:
"The Russian side took advantage of Ukraine's weakness instead of acting as a partner in resolving the crisis in the country"
Appeal to weakness, you can also see in the above quotes to the first paragraph.
What is wrong with this thesis?
During the 23 years, the foreign and domestic political doctrine of independent Ukraine was based on the calculation of Russia's weakness and its inability to exert any decisive influence. At the same time, the state education of Ukraine, which emerged on the territory of the Ukrainian SSR, was counting on strong support from such structures as the EU and NATO, and on the assistance of the United States, which were interested in Ukraine as a deterrent factor for Russia. The state education of Ukraine pursued a policy of forced Ukrainization, de-Russification, ideological pressure on the Russian population, and culturing of Ukrainian chauvinism and Russophobia.
In response to Russia's comments on the inadmissibility of such practices as the rehabilitation and glorification of Nazism, chauvinism and Russophobia, the state education Ukraine pointed out to Russia its weakness and inability to protect its compatriots and interests in the territory of an independent state enjoying the support of the United States and Europe. Ukraine behaved as strong in relation to the weak and in foreign policy, and in domestic - where the role of the weak was assigned to the population of the Crimea and the South-East of Ukraine. "Ukrainian" chauvinists frankly for many years enjoyed the humiliation of Russian citizens, the humiliation of Russia and did not hide this pleasure, showing Russia a fig, a NATO poster and an asshole with an assassin and asking "What can you do for me, moskalskaya muzzle?". So, as if to behave decently, you can only under the threat of retribution.
Payment came unexpectedly. Someone may believe that it is not fair to get what they deserve. But
stories
does not matter.
The catastrophe of the current humiliation of the current Kiev junta would not be even ten percent so monstrous, if it had not contrasted with the former, very recent arrogant panish intonations in relation to its own pro-Russian population, and to Russia.
NATO turned out to be not defenders of Ukrainian statehood, but spectators. Europe did not save, the United States did not help out, although it was precisely to them that the Ukrainian "elites" cursed favor, russophobicizing and bullying, planning new territorial acquisitions and getting cheap labor after Russia collapsed.
The current disaster of Ukraine was programmed a long time ago, and Ukraine could only escape from it by heeding the advice from Moscow and stopping the policy of national humiliation of half of its own population, realizing its continuity from Russia in economics, politics and culture — not in the sense of degrading dependence, but in the sense of the natural connection of a living organism with its habitat and congeners. Unfortunately, none of this was done. And it must be admitted that it could not be done, because Russophobia was the main pivot of the post-Soviet "Ukrainian statehood".
The weakness of Ukraine was the hostility of Russia and Russian.
3. Crimeans and eastern Ukrainians are traitors
Y. Shulipa: "Before, I was somehow loyal to the traitors of the country. They go, and to hell with them, the laws do not violate. It is hardly possible to believe in it, but after a business trip to the Crimea, I had a feeling of strong disgust for the traitors of the country. To the traitors of the native Ukraine - the country in which they were born, received education, found work, created families, gave birth to children, lived peacefully for many years in peace and friendship with many Crimean nations. "
A. Sobolev: "A good start for the modern history of Crimea. Volunteers self-defense Crimea - traitors to their country, Ukraine, cowardly hiding faces behind the masks ".
I understand that all these people are absolutely sure of one thing: Ukraine loved its "Russian and Russian-speaking" citizens. Ukraine trusted them. Because you can only betray the one who loves you and who trusts you.
And how was it possible to betray such a high and disinterested feeling? How was it possible to refuse the total Ukrainization of education? How was it possible to reject the heroes of Ukraine Bandera and Shukhevych? How was it possible to take and not to ride, when everyone jumps and not Moskal?
Official and unofficial, but not persecuted by anyone, and therefore "Ukraine" turning into an official body expressed its love for the Russians - hot and ardent.
Proving her love by doing:
In exchange, "Ukraine" demanded nothing but anything from the (too Russian) people to keep it, to obey it, not to dare to remember its dignity, its language and its history. Is it a lot for such happiness?
It is necessary to honestly say: "Ukraine" hated its Russian citizens too, despised them and was afraid. The Ukrainian national elite, the creative intelligentsia, revered, as a rule, to wipe a good tone on the still Russian compatriots' feet. The Ukrainians who persisted in their Russianness were considered to be people who do not have the right to participate in political and cultural life, people who are subject to Ukrainization, cattle. Enemies. Even the very existence of such a huge number of Russians in the territory of the state of Ukraine was officially considered the result of crimes against the zapadenskaya, that is, Ukrainian nation. The result to be corrected.
It is impossible to betray the one who considers you an enemy or slave. Or both at the same time. You can only get free from it.
Wild, inhuman joy, the delight with which the Crimeans burned, tore, turned their Ukrainian passports in meat grinders to the camera - the best proof of this.
Moreover, they began to burn the passports of Ukraine back in 2010! Before any "polite people", before the beginning of the second Maidan.
And finally -
4. Russia betrayed the brotherly people
It's all simple.
Those who want our people evil, de-Russification, termination - we are not brothers. What they themselves tell us.
Such a song could be sung by Cain Abel.
In this regard, I see no reason to impose. Not because it is scary, but because these people are cursed.
And Russia just took its people under its wing. Not brotherly, but yours.
Not all by the way. Millions and millions more are waiting for the same.