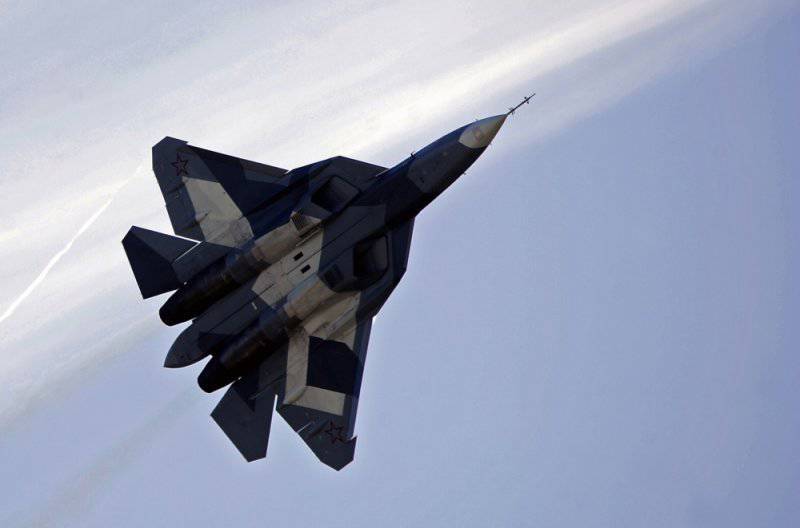 Production facilities for serial production of a promising front-line aviation complex
aviation
(PAK FA), also known as the 5th generation fighter to be delivered by the Air Force in 2016, has already been deployed. This was announced to ARMS-TASS by the president of the United Aircraft Corporation (UAC), Mikhail Pogosyan.
According to him, the Komsomolsk-on-Amur Aviation Plant (KnAAZ) of the Sukhoi Company, which has already manufactured 5 test aircraft for flight tests, is actually forming the necessary production line.
"It is safe to say that production facilities at KnAAZ for those production aircraft that should be supplied by the Air Force in 2016 have already been deployed," noted Pogosyan.
The head of the UAC also informed that with the increase in the volume of serial production of aircraft under the PAK FA program, the necessary production capacity will be expanded. "To solve this problem (the construction of the PAK FA) there is a whole range of activities under the Federal Target Program (FTP) for the development of the defense industry complex, where the 5-generation airplane program is one of the large projects in which budget money funds of enterprises ", - said Pogosyan. In this regard, he noted the expansion of the machining capacity at KnAAZ, the modernization of the electroplating industry, as well as the creation of special coating facilities for the aircraft.
"In general, we are developing such an infrastructure to prepare for serial production," Pogosyan concluded.
The KLA President noted the large amount of work that is being carried out by the Ministry of Defense to expand the test and test site base, as the low-profile complexes of the new generation require other equipment for the test sites, which would make it possible to detect relevant targets. "We will have to confirm the indistinct indicators of our aircraft," Pogosyan said. "Therefore, at the moment, we / UAC /, the Ministry of Defense and the Ministry of Industry and Trade are implementing a comprehensive program."