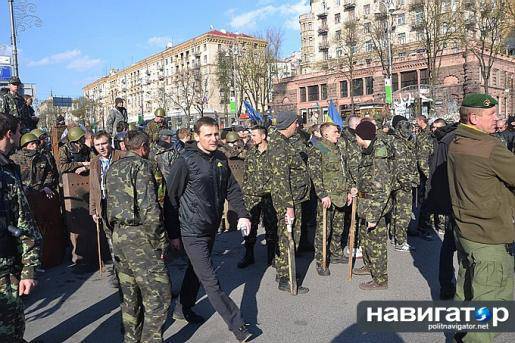 A massive brawl almost began at the walls of the Pechersk court in Kiev between the "military wing of Maidan" and the police and "ex-Berkutovtsy", who came to support their colleagues, who had begun to elect a preventive measure the night before.
"At the time of the detention (ex-Berkutovtsy - Controversy) there were no official letters, invitations. And they were actually active police officers. They had to call their heads or leaders, they should invite them to court or some other institution. Then they explain, in what capacity they are attracted: the accused or is there a witness - right? " - say the participants of the spontaneous rally in support of the Berkuts.
The fighters of the "Berkut" said that they were especially outraged by the fact that they had arrested their comrades without conclusions of the ballistic examination. They were also surprised that the facts of the killing of employees of the Ministry of Internal Affairs during the last most violent days of confrontation are not investigated at all.
When the "Berkutovtsy" approached the court at the barricade on Institutskaya, they immediately lined up with a line of "self-defense" with sticks, "Molotov cocktails", hammers and axes.
Maydanovtsy accused "Berkut" of involvement in the beating of protesters and murders. In response, those recalled how incendiary bottles flew in them, and from the standpoint of Maidan they opened fire from a firearm.
weapons
. At the same time, both of them and others were not going to give up in disputes and continued to stand their ground.
The confrontation under the Pechersk court ended only after information appeared that the court did not make a decision on the choice of a measure of restraint for the Berkutovtsy, and the court hearing on this matter was postponed until Monday. At the same time, on the same day, the court rejected the attorney's petition to change the preventive measure for the previously detained special forces officer of the Jaguar internal troops suspected of involvement in the mockery of the activist of the Cossack hundreds of Maidan Gavrilyuk.