It will happen, she is sure, if Europe does not stand up and does not accept Ukraine into NATO as a matter of urgency.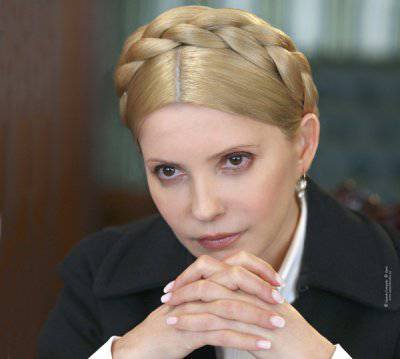 The prison does not pass for anybody. So Yulia Tymoshenko came out of her not the one that was included. It is not known whether she can now "work on a hairdryer," but there are other evidences of the metamorphosis that occurred with her.
Someone from the Ukrainian political scientists noted that Tymoshenko should be angry at the whole wide world. So it turned out. But most of all she is angry at Russia - for the Crimea and in general. And her voice sounds like a sharp dissonance in the efforts of Western countries to reach an agreement with Russia and settle matters in the "independent" world.
Tymoshenko demands from the West
weapons
. She calls on him to step up military cooperation with Kiev in order to prevent Russia's "further aggression". With such a call, she turned to the Maidan sponsors through the British business newspaper The Financial Times, which she gave an interview. In fact, she outlined in her interview the main points of her election program. Similar interviews were given by her main opponents in the presidential race - Petro Poroshenko and Mikhail Dobkin. Against their background one can see: Tymoshenko has never been a "dove of peace", but now has become a real "hawk".
So far, the West has been supplying the Armed Forces of Ukraine with only sleeping bags and food rations, but Tymoshenko wants equipment and military-technical support. This is to prevent "further Russian aggression," she says.
Tymoshenko is confident that helping Ukraine is a global task. "The whole world should significantly strengthen the Ukrainian army, not for the sake of war, but as a way to ensure stability and deterrence potential," she says.
As for Russia, then it is relentless. The world community should introduce "short-term, tough sanctions" against the Russian Federation, far surpassing those that had already been adopted earlier.
In a sensational telephone conversation with Deputy Shufrich, whose recording has recently appeared on the Web, Tymoshenko promises to raise the whole world against Russia. Apparently, this has already begun: hurricane "Julia" hit the road.
"Of course, if the West imposes tough sanctions against Russia, it will entail some costs for the US and the EU. But I urge the West to endure these losses, because if they are not there, we will get even worse problems that will require even more radical and serious measures, "she fears Western countries.
And what are these problems, Yulia Vladimirovna? You will be put in prison again, but only now for the 450 millions of dollars that were once stolen from the Russian Ministry of Defense, which you tried to transfer to the Ukrainian budget with an elegant hand movement? Yes, in order to prevent this, the West should tense up and suffer.
Like members of the Ukrainian junta, Tymoshenko opposes federalization, coupled with the non-aligned status of Ukraine, which Russia demands. This is "a direct path to the destruction of independence and sovereignty of both Ukraine and other post-Soviet countries," she said. According to Tymoshenko, federalization threatens with the emergence in Ukraine of "a dozen new Krymov" and will serve as a pretext for the annexation by Russia of the south and east of the country.
And unitary Ukraine, we argue, will lead to civil war. What's better?
Tymoshenko is not the first Ukrainian politician to ask for political and military help from the West. Earlier, on March 11, the same thing was done by the Verkhovna Rada, which appealed to the United States and Great Britain to use economic and military means to ensure the security and territorial integrity of Ukraine.
And help came. Washington sent Kiev 25 000 boxes with American dry rations (around 330 000 kits), although previously promised massive support. The Internet has already appeared the announcement of the sale of these rations in private, and journalists have calculated that the 130-thousand Ukrainian army will last for two and a half days, if you eat once a day.
In the Ukrainian leadership there is no agreement about joining NATO. Tymoshenko called for the integration of Ukraine into the European security and defense systems, although earlier "Prime Minister" Yatsenyuk said that for the sake of the country's unity, this bloc is not worth striving for. And and. about. Ukrainian Foreign Minister Andrei Deshchitsa once again declared that the new Ukrainian government does not intend to lead Ukraine into NATO, despite the fact that the country maintains an intensive dialogue with the Alliance and tries on various forms of cooperation.
Meanwhile, the press is discussing that Tymoshenko, who is going to the presidential election, has hidden information in the declaration that she was obliged to indicate. Like other candidates, the ex-premier announced her 2013 income statement for the year. The document is posted on the website of the CEC of Ukraine. It turned out that in 2013, she earned 180 000 hryvnias (22 500 dollars). But it would be a mistake to assume that this is the salary for sewing mittens, which, by the way, Mikhail Khodorkovsky did in prison. Because of health problems, Tymoshenko did not work. But then she led the party "IN" Batkivshchyna ", for which she received a monthly salary in the amount of 15 000 hryvnia.
But if Yulia Vladimirovna would still sew mittens, put an autograph on them, and the prison administration would sell them through an auction, the earnings could be much more. What kind of businessman would refuse to have in her collection mittens made by Tymoshenko?
Of the property, Tymoshenko has an apartment with a total area of ​​59,4 square meters. No other real estate, as well as vehicles, businesses and bank accounts, is listed on the declaration.
She did not tell Ms. Tymoshenko about what her husband and daughter Oleksandra own, although she had to indicate their income. Earlier, the media wrote that her husband has a business for growing quail eggs, and his daughter owns a restaurant in Kiev.
The Ukrainian press also reports that recently, Tymoshenko showed reporters a luxurious house in the Kiev suburb of Koncha-Zaspa, which she rents for 10 years (goes, rented, even when she was in prison?). The declaration of him is not mentioned.