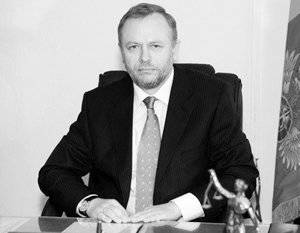 "The current situation will only encourage import substitution, for the production in Russia of those components whose production we previously gave to our partners," Alexander Fomin, director of the Federal Service for Military-Technical Cooperation, told the VIEW newspaper. So he reacted to the threat of sanctions against Russia, voiced by the West.
In Chile, one of the largest air shows in South America, FIDAE-2014, continues to operate, including the Russian exposition. Among the features of the exhibition are the fact that it was visited by two large Russian officials responsible for arms exports (this happens not too often): Alexander Fomin, director of the Federal Service for Military-Technical Cooperation (FSVTS), and the head of the Russian trade monopoly
weapons
Rosoboronexport Anatoly Isaikin. Whether this will lead to the conclusion of new contracts on this promising for the Russian arms market will be known some days ago. Alexander Fomin, director of FSMTC, told a newspaper THE VIEW OF a number of problems that Russia faces when selling weapons abroad.
VIEW: Alexander Vasilyevich, according to our data, FSMTC a couple of years ago noted an increase in the number of complaints from customers, including foreign ones, on the supplied Russian military equipment. In other words, there was a tendency for the quality of military products to deteriorate. Did you manage to overcome this?Alexander Fomin
: Quality problems really exist, and not only here. Our competitors - Western countries - suffer the same, and sometimes more. By the criterion of price / quality, we still, perhaps, ahead of the rest. I emphasize: we are far from the most poor-quality manufacturers.
VIEW: Still, let me clarify - the number of complaints is growing or falling?A.F.
: In some areas of our sales it is falling, in others the situation has stabilized significantly. It was decided to organize a modern quality management system.
VIEW: Has the revived military acceptance work?A.F.
: Including. The existing problems are primarily associated with previously concluded contracts for equipment released in small series or non-serial. Now there is an obvious tendency to correct this situation. Went a large series, which always contributes to improving the quality of the final product. In some areas of our industry, developers and manufacturers can no longer cope with the huge volume of orders. Especially it concerns air defense of practically all directions, helicopters. We need to think about expanding our production capabilities.
In addition, claims to quality were associated primarily with the so-called PKI, the purchased components in our final products. And they, as it is easy to guess, can have a very different source. I also remind you that we have a great cooperation, including with some CIS countries and far abroad. The customer wants to have on board our combat platform - it does not matter whether it is a tank or an aircraft - some kind of equipment from a third country, Western European or Asian. We fulfill this wish. And as a result, sometimes there are problems with quality, and, which is also not very pleasant, delays or even non-fulfillment of contractual obligations due to the fault of our counterparties.
VIEW: On the issue of counterparties - in this context it is impossible not to recall the threat of Western sanctions. Is this threat already perceived by the Russian defense industry? And how strong is the dependence of our defense industry on such contracts? After all, a number of contracts with foreign suppliers were concluded only due to the fact that the domestic industry did not meet the requirements of the military.
A.F.
: If you noticed, we all live in this aggressive environment for years. And Rosoboronexport organization non grata is announced several times a year. In many countries of the world, ships and aircraft that carry our property are arrested, stopped, inspected, not passed. Someone imagines himself a global gendarme, others help him in this. Where is democracy? For some, this is a style, even a lifestyle - to invent sanctions, criticize someone, write a fine to someone. Therefore, I can not say that the next sanctions for us
news
. The only thing I can note is: never, have we responded symmetrically to even one sanction in the field of arms supplies. No one. We still behave non-aggressively and are confident that reason will prevail, everything is formed.
VIEW: That is nothing critical?A.F.
: Of course, this does not add optimism. This puts Russia in the obviously acute conditions of maneuvering. There are also supplies on which Russian production depends. But I would not dramatize the situation. I think this will only spur on import substitution, for the production in Russia of those components, the production of which we previously gave to our partners.