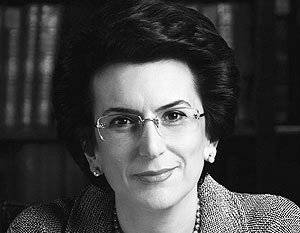 "By his actions at home, he eventually lost 20% of the territory of Georgia. If you continue to listen to him in Ukraine, too much will be lost. I would like to warn the Ukrainians. Let them feed on illusions less, "ex-chairman of the parliament Nino Burdzhanadze told the VIEW VIEW. So she commented on the vigorous activity that her former comrade-in-arms, former president Mikhail Saakashvili, launched in Kiev.

Ex-president of Georgia Mikhail Saakashvili refused to appear on March 27 for questioning by the main prosecutor's office of his country, which intends to talk to him as a witness on 10 resonant cases, including about the mysterious death of former Prime Minister Zurab Zhvania.
Saakashvili is now staying in Kiev, where he consults his old friends who have come to power. Former parliamentary speaker Nino Burjanadze, leader of the United Georgia Democratic Movement, in a conversation with the newspaper VIEW warned Ukrainians against trusting Saakashvili. In her opinion, the former president should be responsible for the 2008 war of the year, she also spoke in favor of the dialogue of the current Georgian leadership with Russian President Vladimir Putin.
VIEW: Nino Anzorovna, you are not surprised that the former president declined to meet with the investigators?Nino Burjanadze:
There is nothing unexpected in the fact that Saakashvili refused to cooperate with the investigation, for me there is none. It was absolutely clear that he would do it. I am concerned that, unfortunately, because of the ineffectiveness of the "Georgian Dream", his "United National Movement" (UNM) was able to rise from the ashes. UNM is alive, speaks with the same ambition. This is due to the indecision and incompetence of the new leadership of Georgia. Criminal cases could be brought against Saakashvili with reason. Now Saakashvili got the opportunity to make loud statements about political persecution.
VIEW: The list of claims against the ex-president of Georgia, who presented the main prosecutor's office, there is no case of responsibility for the war 2008 year. And should, as you think? NB
: For the first time, I received the "traitor" label from Saakashvili in 2008, when I told the international media that it was possible to avoid a war with Russia. That was enough to accuse me and almost call me "an agent of the Kremlin." But from the very beginning of the hostilities I thought that the war could have been avoided and that Saakashvili's wine was huge in it. The investigation must take place. The fact that the current leadership has done nothing to carry it out is another one of my complaints about the Georgian Dream.
VIEW: So will Saakashvili end up in the dock? NB
: If I come to power, then surely. I will not speak instead of justice, but I am sure of his guilt in very many articles. We must do everything for an objective investigation. I would ensure this if I became the President of Georgia in October (then Nino Burjanadze took the third place, although many forecasts took her to the second round - comment. VIEW). No one will have questions that this is the real truth, not political persecution.
VIEW: 26 May 2011 in Tbilisi was brutally suppressed a peaceful demonstration of your supporters, people died. Many draw parallels with Maidan ...NB
: There can be no doubt that the Tbilisi authorities of that time showed a lot more cruelty and incredible cruelty to us in Tbilisi than it did in Kiev. This is absolutely unique! I am very upset about double standards.
Unfortunately, the people who came to defend democratic values, human rights in Georgia, and they were beaten and killed, no one responded, did not come to the rescue. Nobody gave us gingerbread! Despite the fact that we did not have Molotov and
weapons
. There was not a single case of us seizing the building!
We stood on Rustaveli Avenue in 20 meters from expensive shops, including jewelry. And no showcase was broken, there were no robberies! And we were dubbed radicals only because Saakashvili managed to label us "pro-Russian politicians". That is why almost no one supported us. And on the Maidan, we know how radical the actions were sometimes. Nevertheless, they were supported, watered, fed and stroked on the head.
VIEW: How do you comment on the fact that Saakashvili is advising the new authorities of Ukraine?N. B .:
This is nonsense. I am very upset by this. I know well and Yatsenyuk, and Klitschko, and Tymoshenko. When they were in opposition, I tried to enlist their understanding. After 26 May 2011, I held the first press conference in Ukraine. Unfortunately, we did not find understanding then.
And now I see next to them Saakashvili, who crushed the opposition rally in Tbilisi, exceeding force, created a repressive system, which is corrupt. He goes to rallies on the Maidan, and they applaud him ... It hurts. It is sad to tears. What does he advise there? By his actions at home, he eventually lost 20% of the territory of Georgia. If you continue to listen to him in Ukraine, too much will be lost. I would like to warn the Ukrainians. Let them eat less illusions.
VIEW: During the Sochi Olympics, President Vladimir Putin allowed the possibility of meeting with the leaders of Georgia. This was vividly discussed in Tbilisi, but now somehow the fuse of the Georgian leaders has decreased. Do they need to meet with the Russian president?NB
: I have never had any doubts about the need for a direct dialogue with the Russian leadership on any problematic issues, especially since we have accumulated so many of them with Russia. No one doubts that Putin should be spoken with clearly, except hot heads in Georgian politics. This is proved by the crisis in Ukraine, when Merkel, and Obama, and others called him, communicated.
In Georgia, Saakashvili was able, unfortunately, through the media, to succeed in creating attitudes towards people who talk about the need for a dialogue with Russia as enemies of the people. Not many politicians dare to speak in Tbilisi about the need for negotiations with Moscow.
In a year and a half of the government, the Georgian Dream could really improve relations with Russia. It is good that we do not scold each other and sell wine on the Russian market, but it is necessary to resolve issues of territorial integrity. Without direct negotiations this is impossible. There was no one in the Georgian leadership who would dare to break Saakashvili stereotypes, pick up the phone, call Putin and offer to talk about what is relevant and important.
VIEW: June 15 in Georgia local elections. Leading non-parliamentary opposition forces are uniting around you. What are your chances?NB
: We are gaining momentum and hope for a serious result with very limited financial opportunities and access to the media. If we show a breakthrough in local elections, we will begin to seek early parliamentary elections in order to come to power.
At the last presidential election, I am sure, there was a conspiracy of the "Georgian Dream" and the UNM, so as not to miss me in the second round, which I certainly would have won. The "Georgian Dream" should finally understand that by its incapacity it opens up the possibility of the UNM to return to power. Saakashvili threatens us from abroad - this is not a game. I know him. With all his drawbacks, he shows political instincts and can finally seriously spoil the situation in Georgia.