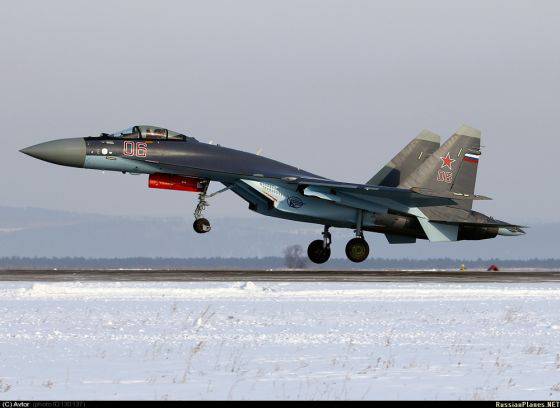 In the aviation regiment stationed in the Khabarovsk Territory, the first training flights of the new Su-35С fighters took place. The pilots performed more than 35 sorties at Su-10, the press service of the Eastern Military District (VVO) reported.
Also, according to the press service, during the flight shifts, several pilots were trained in piloting new cars.
The source recalled that 12 Su-35S fighters replenished the BBO air unit as part of a state defense order in February of this year. In a ceremony of transferring new fighters to Komsomolsky-on-Amur
aviation
Gagarin Plant (KnAAZ, part of the Sukhoi holding), the Minister of Defense of Russia, Army General Sergei Shoigu, took part in the BBO.
Su-35C - deeply modernized super-maneuverable multi-generation fighter "4 ++". Fifth technologies are used in it. The distinctive features of the Su-35C are a new avionics complex based on a digital information and control system, a radar station with a long range for detecting airborne targets and an increased number of simultaneously accompanied shelling targets, engines of increased power and a swinging thrust vector, Gordeev noted.