The first destroyer of the new Chinese project 052D - Kunming ("Kunmin", tail number "172") was 20 in March 2014 of the year adopted by the PLA Navy. The ship was built on the new Shanghai Shipyard Shanghai Jiangnan Changxing Shipbuilding and Heavy Industry Corporation of Jiangnan Shipyard (Group) of the Shanghai Shipbuilding Company, part of the China State Shipbuilding State Corporation (CSSC) in recent years on Changsindao Island on the Yangtze River. . This shipyard on Changsindao Island is one of the largest shipbuilding companies in the world.
The destroyers of the 052D project are a development of the previous type of 052C. Unlike their predecessors, they are equipped with multifunctional systems.
weapons
and vertical launchers that can be used to deploy several types of missiles (anti-ship missile, cruise missile for firing at ground targets, anti-aircraft missiles HQ-9 and HQ-16, anti-submarine missile). The ship also has a new multi-function radar and a new 130-mm artillery mount.
Unlike previous types of Chinese destroyers, built in small series, 052D will become the main missile and artillery ships of the Chinese
fleet
for the coming decades. The lead ship of Project 052D Kunming was launched at the Shanghai Jiangnan Changxing Shipbuilding and Heavy Industry Corporation in 2010, launched on August 28, 2012, and began factory trials in August 2013. In addition to the Kunming fleet introduced on March 20, at least 11 ships of this project are now in various stages of construction.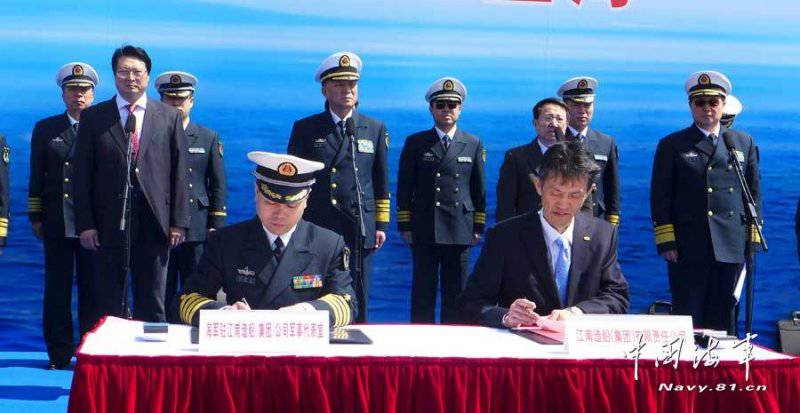 A military representative and a representative of Jiangnan Shipyard (Group) (Shanghai) sign an act of transferring the first squadron of the new Chinese project 052D Kunming to the PLA Navy (side number "172"). Shanghai, 20.03.2014 (c) navy.81.cn