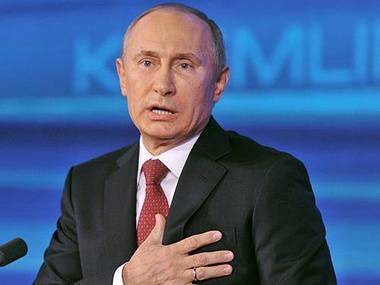 Crimea is back home! Without exaggeration, I will say that this day must be declared a public holiday! And call it, for example, the Day of the revival of Russia. I think this holiday will be much more beloved than the Independence Day of Russia. Independence — from whom? .. I am not a supporter of Putin, but I fully support him on the issue of Crimea!
Still, there are a lot of questions for Putin. Against the background of all these events, perhaps it's time to ask them.
Long and tedious, our government sang the same song about the market, about foreign investment, privatization, etc.
History
again put everything in its place. I would like to ask: Vladimir Vladimirovich, how long will I have liberal ideas in our economy? The West imposes sanctions, the dollar and the euro are storming new heights. When will we see Russia as the strongest player in the Russian market? Vladimir Vladimirovich, have you visited shopping centers for a long time?
Garlic with a label: "Made in China" !!! Tomatoes, Bulgarian pepper - Turkish !!! But if among the food products Russian goods are still not uncommon, then with industrial goods it's not even a disaster, but a disaster! It seems that we live in a country that does not have a single industrial enterprise! Tools, plumbing, electronics, "electrics", even nails and screws - often made in China! And this is in a country where alloys and steel have always been of the highest quality!
Do you want to laugh in the face of sancciemans? Create enterprises, not distribute them to foreign shareholders! What gave us the WTO? Only an even higher dependence on Western goods!
You have Dmitry Medvedev sitting in the premiere, the one who called Muammar Gaddafi a non-handshaking one. Do not find that his position plunged Libya into chaos? You do not want to draw a parallel between the events in Libya and Ukraine?
Another question: why was Mikhail Gorbachev awarded? For the collapse of the USSR? For the betrayal of their homeland? Do you consider him responsible for the current "mess" in Ukraine? You gave Yeltsin life support. To the very alcoholic who spat on the majority opinion. Which conducted the orchestra and could not crawl out of the plane.
You have not forgotten the ancient wisdom: "Tell me, who is your friend ..."?
Who is Russia's ambassador to Ukraine? I do not Zurabov? I really want to know what our embassy was reporting on the situation in Ukraine. Was there real monitoring of the situation?
Where are our special services? Why Yarosh and Muzychka stink in Ukraine? Why make a verdict in absentia? Are our special services unable to help the court to make an internal verdict? Can send them to Israel, let them hear about Munich?
Do you know where fascism comes from? First of all from ignorance! What does the Minister of Education do in eradicating ignorance? Introduces the exam? Destroys the Soviet education - recognized, by the way, the best in the world! "We lost to the Russians at the school desk" - do you know these words? Do you really want the school to educate the human consumer, not the creator? Tell you where to send the author of this revelation?
I listened to your speech. With all its advantages, I would like to ask a question again. Have you studied history at school? Do you think that the Crimean Tatars were repressed for nothing? Just Stalin got off the wrong foot? Of course, I understand that I want to cajole them, but do not you think that they will perceive flirting as weakness? You put in their hands great
weapon
for further blackmail. Before the Poles apologized for Katyn, which had no relation. Did it help? .. Or maybe it would be better to offer the Crimean Tatars to start everything from scratch? Take into account the mistakes of the past and start building a new life?
With enthusiasm, the entire Russian army accepted the appointment of Sergei Shoigu as Minister of Defense. Do you know that the load of unfinished business will finally be crushed? Do you really believe that Vasilyeva stole, and Serdyukov did not know anything? Maybe it makes sense to revise the film "The meeting place can not be changed"? A thief should sit in jail!!! And even if Mr. Serdyukov proves to be the lamb of God, one should not forget about non-professionalism, negligence, slovenliness, etc. In the end, who is responsible for the actions of subordinates? Right, head!
Questions, questions and more questions. Wherever you look ... Medicine, agriculture ... Everywhere corruption!
Want to know my opinion? Without answers to these questions, all your actions are more like PR. Not everything needs to be measured by rating. Yes, Crimea was and should be Russian. Thank you for your political will, but this is not a victory yet. History has given you a chance to rebuild Russia, a strong Russia. Do not miss it!
And I also want to add: Ukrainians and Russians are one nation. This is one state. And when the unity of Ukrainians and Russian happens, so this will be a victory!