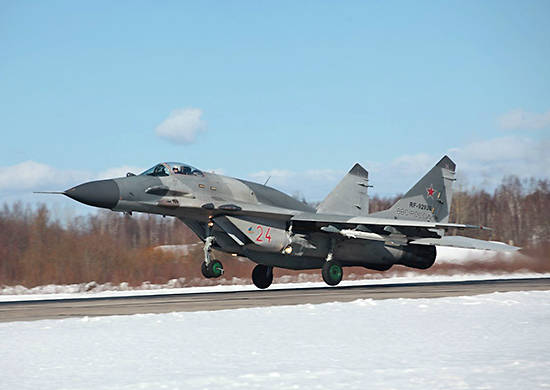 Today in the Western Military District (ZVO) at the military airfield Besovets in Karelia, a fighter exercise began
aviation
Western Military District (ZVO) "Ladoga-2014".
Fighter pilots from the ZVO aviation formations stationed in the Murmansk, Tver and Kursk regions arrived to participate in the training in their combat vehicles.
The exercise will be held during the week over the proving ground and the coastal territory of Lake Ladoga. Pilots of the Air Force and Air Defense of the region on the MiG-29SMT, MiG-31BM, as well as various versions of the Su-27 will conduct combat firing, guided missile launches and will work out a number of elements of air combat.
Around 50, fighter pilots will improve their skills in detecting a conditional enemy's air attack weapons, intercepting and destroying them at any time of the day. In this case, they will have to perform one of the most difficult exercises, when the leading aviation unit launches a light bomb that illuminates the ground surface, and its followers must destroy all the detected targets.
Air targets will be launched from a height of more than 10 thousand meters from Su-27 aircraft equipped with special equipment for suspending bomb armaments. As air targets will be used aerial bombs, presented in the form of a garland with luminous elements.
Fighter pilots with day-to-day combat shooting experience will make them for the first time at night, and young pilots will use their aircraft to practice.
The peculiarity of the Ladoga aviation exercise held annually is that the military pilots are not informed about the location of the target and its characteristics before receiving the signal and independently search for it and intercept it while in the airborne alert zone. Also, pilots independently choose the most effective means of hitting detected targets, depending on the situation.
Following the results of combat shooting, after the analysis of all stages of the exercise by the qualification commission of the ZVO, the young pilots will receive admission to combat duty to protect the airspace of the Russian Federation.