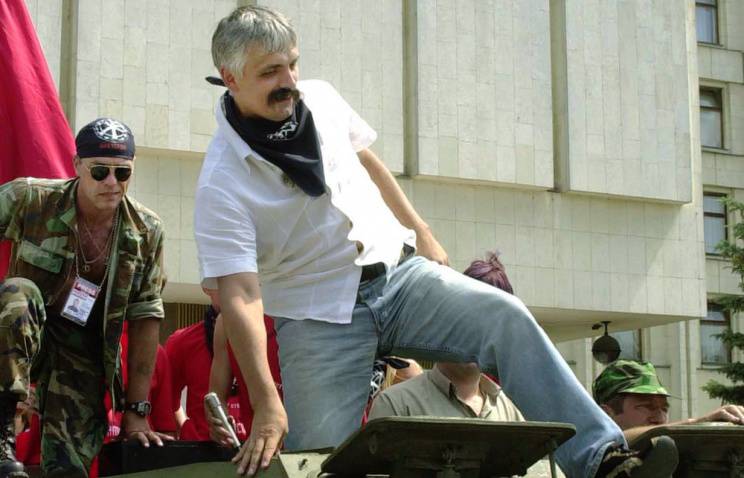 Dmitry Korchinsky (right), 2004 year
A criminal case has been initiated against the Ukrainian nationalist Dmitry Korchinsky for appealing for a war against the Crimea, Vladimir Markin, official representative of the Investigative Committee of the Russian Federation, told Itar-Tass.
"The main investigative department of the IC of Russia has opened a criminal case against the leader of one of the nationalist organizations of Ukraine, Dmitry Korchinsky, on the grounds of crimes under Article 2, 354, Criminal Code of the Russian Federation (public calls for the outbreak of an aggressive war using the media), Article 2. .205.2 of the Criminal Code of the Russian Federation (public calls for the implementation of terrorist activities using the media) ", - said Markin.
Case Sashko Bilogo
7 March Investigation Committee reported that a citizen of Ukraine Alexander Muzychko, better known as Sashko Bilyy, was put on the international wanted list for taking part in hostilities on the side of Khattab and Basayev against Russian military personnel.
A criminal case was initiated against him under the h. 1 Art. 209 of the Criminal Code of the Russian Federation (creation of a stable armed group (gang) in order to attack and guide Russian citizens).
According to the UK, the grounds for initiating the case were "the data obtained during the investigation of the criminal case on the fact of the clash of illegal armed groups under the leadership of Shamil Basayev and Khattab with the Pskov Airborne Division soldiers in the Ulus-Kert village of the Chechen Republic in 2000 year."
According to the official representative of the ministry, Vladimir Markin, Muzychko has killed at least 20 Russian servicemen.
On March 12, a court in Yessentuki arrested a Ukrainian militant in absentia.
Yarosh case
On the same day, March 12, the Basmanny Court of Moscow satisfied the investigation's petition to arrest in absentia the leader of the Ukrainian ultranationalist group "Right Sector" Dmytro Yarosh who was put on the international wanted list.
Earlier, the Investigation Committee opened a criminal case against Yarosh for appeals for extremist and terrorist activities. According to the investigation, in his speeches he publicly calls on anti-Russian forces for extremist actions and terror in Russia.
March 1 Ukrainian ultra-right organization leader called on Chechen separatist leader Doku Umarov to
weapons
in the hands of support the anti-Russian forces of Ukraine. The corresponding appeal was posted on the "Right Sector" page on the social network VKontakte.
"Ukrainians have always supported the liberation struggle of the Chechen and other Caucasian peoples. Now it's time for you to support Ukraine. As the leader of the Right Sector, I urge you to intensify the struggle. Russia is not as strong as it seems," Yarosh said in a statement.
During the first Chechen company, Yarosh was among several militants from Ukraine who participated in hostilities against Russian troops in Chechnya.