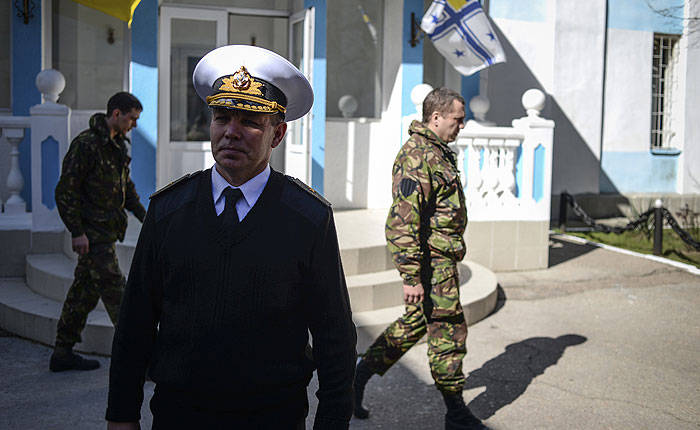 Ukrainian Navy Commander Rear Admiral Sergei Haiduk and seven other activists from among the supporters of the new Kiev authorities were released in the Crimea. This was reported on Thursday, the press service and. about. President of Ukraine, Chairman of the Verkhovna Rada Oleksandr Turchynov.
According to the press service, Haiduk and civilians, including the son of the people's deputy of Ukraine Anatoly Gritsenko, captured yesterday by law enforcement agencies and the self-defense of the Crimea, were released on Thursday night.
Earlier, the press service of the Ministry of Defense of Russia reported that the head of the department, Sergei Shoigu, called on the leadership of Crimea to release Haiduk.
"Russian Defense Minister General of the Army Sergei Shoigu appealed to the leadership of the Republic of Crimea with a request to release Rear Admiral Sergei Haiduk, the commander of the Ukrainian Navy of Ukraine, who was detained this afternoon and not hinder his departure to the territory of Ukraine," the message said Wednesday
Shoigu said that Haiduk was forced to carry out the orders of his leadership, submitting to the military regulations of the armed forces of Ukraine.
Haiduk was detained by the prosecutor's office of Sevastopol, "because there were questions for him". The prosecutor's office explained that, according to their data, Haiduk "transmitted to the military units of Ukraine the order that came from Kiev to apply
weapon
against civilians. "
The detention took place after Haiduk left the headquarters of the Ukrainian Navy in Sevastopol, which on Wednesday was captured by pro-Russian protesters and self-defense forces. Together with Haiduk, other Ukrainian officers also left the headquarters.
And about. Oleksandr Turchynov, Chairman of the Verkhovna Rada of Ukraine, gave the Crimean authorities time before 21: 00 (23: 00 Moscow time) on Wednesday to release Haiduk, promising to take otherwise "adequate measures", including "technical and technological".