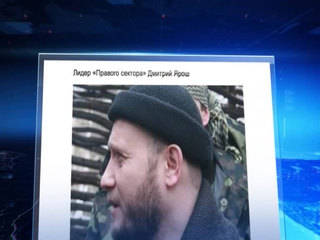 The investigative committee opened a criminal case against the leader of the Right Sector, Dmitry Yarosh, under two articles of the Criminal Code of the Russian Federation - publicly calling for terrorist activities and publicly calling for extremist activities. This was reported to ITAR-TASS by the representative of the IC Vladimir Markin.
According to Markin, investigators will seek absentee arrest Yarosh. And then he will be declared on the international wanted list. In addition, today, at the request of the Prosecutor General's Office, Roskomnadzor has blocked access to 13 communities of Ukrainian nationalist organizations in the social network VKontakte.
According to the investigation, in his speeches Dmitry Yarosh, the head of the ultranationalist Ukrainian organization of the Right Sector in Ukraine, publicly urges anti-Russian forces to extremist actions and terror in Russia.
March 1, the leader of the Ukrainian ultra-radical organization Right Sector Yarosh, through the VKontakte network, asked for support from the terrorist Doku Umarov. Later, the head of the Chechen Republic, Ramzan Kadyrov, expressed outrage at Yarosh's appeal to step up terrorist activities in Russia. "If Yarosh admits that
weapons
fought in Chechnya, then all measures will be taken so that he will bear the deserved punishment, and, if necessary, he will be issued, as his friend Umarov, a one-way ticket, "Kadyrov said.