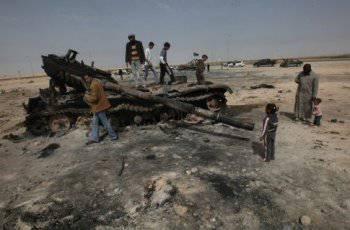 Libya wants to stop the war and find a solution to the conflict. This was announced by the Deputy Foreign Minister of the country Abdelati Obeidi during a meeting with the Greek Prime Minister Georgis Papandreou, Gazeta.Ru reports, citing a source in the Greek government.
The same source previously reported on the visit of the Libyan envoy. Other details of the meeting are not yet known.
Meanwhile, earlier it was reported that in the Libyan city of Brega there are battles between rebel groups and government troops.
Government forces do not want to go on the offensive because of possible NATO air strikes. The rebels do not want to move to the center and call on NATO for further attacks.
On the eve of the troops of Gaddafi conducted a rocket attack on the city of Zintan, located in 160 km from Tripoli.
"From the early morning of Sunday, the armed groups of Gaddafi from
tanks
are shelling the city, in particular its northern part. They are still trying to own the city, "eyewitnesses said.
In addition, Gaddafi's forces fired missiles of the city of Ketla, southwest of Tripoli, which has been controlled by insurgents recently.
As a result of the shelling, about 30 people died in the city.
"Gaddafi's forces blindly fired at the city with hail." Attacks are conducted the second day, - one of locals told. - In the city about 30 dead and dozens of injured. Many families fled the city, but I, for example, have old people who have difficulty moving. "
Another resident confirmed in a telephone conversation the number of those killed. "Many are afraid to bring the wounded to the hospital for fear of reprisals," he added.
As reported by Rosbalt, earlier the representative of the government of Muammar Gaddafi rejected the proposal of the Libyan rebels about a cease-fire and a truce, saying that the troops loyal to them would not add up
weapon
and will not leave the place of deployment.
The rebels were ready to lay down their arms and stop fighting, but on condition that the western cities in Libya receive complete freedom to express their views, and Gaddafi will leave the country.