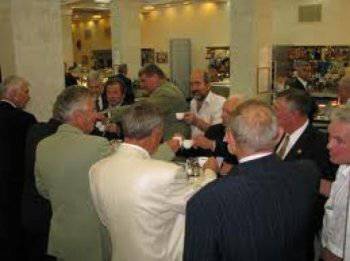 No wonder the Russian Tsar Peter I demanded that the boyars speak without a piece of paper, so that everyone could see the crap.
Now the great parties "Batkivshchyna" and "Freedom" have just arrived at their finest hour, the guys speak without a piece of paper. They played a decisive role in the coup d'état, received in the self-appointed government a lot of posts and the opportunity to talk without a word. Let us examine some of the statements of these wonderful people.
"Russia will not be able to win in this situation, it is a violation of all international norms and guarantees. If they are violated, then we have the right to restore nuclear weapon. We will renew the nuclear status and communicate in a completely different way ",
- said the MP
Mikhail Golovko
on the sidelines of BP.
It's a sin, of course, to laugh at sick people, but it's hard to resist. First, of course, all European countries will be happy to receive inadequate nuclear weapons at their borders, secondly, a country with such an economic situation cannot do this, and, thirdly, the Budapest memorandum on the integrity of Ukraine can be immediately burned in the stove. But there is no time or ability to analyze your words.
"
Dear Chairman of the Parliament. I ask you to order to close the damn buffet, because now a very important decision was failed. "
, - our next hero, Pan, declared from the rostrum
Andrey Pyshny.
It seems to me that this is not necessary. People's deputies should in fact adequately, according to the revolutionary situation, unanimously vote "for" new laws, whatever they may be, therefore, without a hundred or two hundred grams of brandy it is unrealistic to do so. Let them drink and eat, Pan Magnificent, God forbid - sober up.
Well, our constant hero, the newly-made secretary of the National Security and Defense Council
Andriy Paruby:
"
We have now localized the situation in Crimea and will take prompt and effective measures to fully neutralize it ",
- he said.
In how, however, hello. And again goodbye. Ban Andriy, he is clearly contused on the Maidan.
"
These are either small extremist-separatist groups, or military personnel of the Russian Black Sea fleet, that is, the special forces of the Russian Black Sea Fleet ... The military personnel of the Black Sea Fleet illegally conduct actions in the territory of Crimea "
- says our unique commandant. Interestingly, he thinks that now 70-e years, and people are not able to check his words?
The habit of lying on the Maidan will repeatedly fail Pan Parubiya, let's hope that his friend
Michael Saakashvili
brought him enough neckties as a gift. He will need them soon.
"
I ask the team to treat my future decisions with understanding. I am sure that in our communication there will be a maximum of democracy and only professional relations. I am confident that with our team we will adequately pass all the tests, we will overcome this crisis together and reach a new level. I invite everyone to fruitful cooperation ",
- noted the new Minister of Infrastructure
Maxim Burbak
, addressing ministry officials with a welcome speech.
Pan Maxim is the younger brother
Alexey Burbaka
, childhood friend of European politics
Arseny Yatsenyuk.
You remember, gentlemen, that in European practice it is unacceptable to arrange the power of your gods and friends?
But perhaps he was appointed for specific professional success in his previous activities and experience? You are not mistaken.
He proved himself to be an effective organizer of supplying firewood, water and tires to Maidan ...
Sometimes it seems to me that I wake up in the morning every day in Zimbabwe after the departure of the colonialists. Natives with machetes, ruined white farm estates, a government consisting of notorious dunce. I will not compare
Yanukovych with Yan Smith,
the successes of our president cannot be compared with the successes of Rhodesia. But, excuse me for cynicism, maybe this was the point of leaving the Ukrainian president in the underground to demonstrate the possibilities of the new "people's" power and the effect that will occur in society from understanding their professional and organizational skills.
I do not know about you, I am shocked by this new level. Insight will come, I hope, soon everyone