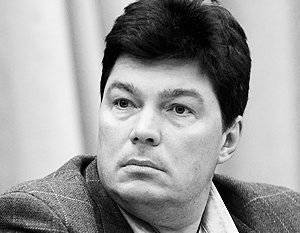 The head of the international committee of the Federation Council gave a political assessment of what is happening in Ukraine
"I can, unfortunately, draw many parallels between what is happening in Ukraine and the so-called Arab spring." With these words, Senator Mikhail Margelov commented on the latest events in this country. He sees nuclear safety as one of the main threats: 17 nuclear reactors are functioning in Ukraine.
On Wednesday evening, the press secretary of the Russian president, Dmitry Peskov, said that he had no information about the whereabouts of the ousted president of Ukraine, Viktor Yanukovych. Previously, the media repeatedly suggested that Yanukovych had already left the country and was in Russia. A little earlier and. about. Prosecutor General of Ukraine Oleg Makhnitsky said that Yanukovych was put on the international wanted list and "this is done by a separate investigative team."
We add that on Wednesday intensified popular unrest in the Crimea. A new wave of clashes provoked the raising of the Russian flag. At the parliament building in Simferopol there were clashes between opponents and supporters of the new Ukrainian government and even an explosion thundered. A group of protesters tried to break into the parliament building, where an extraordinary session should begin to discuss the internal political situation in the country.
The situation in Ukraine commented on NATO. There they intend to "support the sovereignty, independence, territorial integrity and the principle of the inviolability of the borders of Ukraine." "These are the principles of stability and security in Central and Eastern Europe, as well as on the continent as a whole," the alliance said in a statement.
Head of the International Committee of the Federation Council Mikhail Margelov shared his view on the situation in Ukraine in an interview with Russia Today TV channel.
- Now in Ukraine there are a lot of events that are spoken around the world. What do you think happened there - a coup or a revolution?
- As an Arabist and orientalist, I can, unfortunately, draw many parallels between what is happening in Ukraine and the so-called Arab spring. Events in Ukraine began as a revolution, as a protest of people deceived by Mr. Yanukovych and his party, the Party of Regions. Yanukovych and his party for two years advertised an agreement between Ukraine and the European Union. They promoted this idea with the words that this is the best way of development for Ukraine and its inhabitants, and then suddenly reversed, without explaining anything to the Ukrainians.
The people got angry and took to the streets, but the authorities and Yanukovych again failed to agree with the people. After that, extremists stood at the head of a peaceful protest. The same thing happened in Tunisia and Egypt, where the revolution was staged by pro-Western citizens who were thinking about the modernization of an archaic society. But as a result of the elections, Islamists came to power. Here is the same picture. It all began as a peaceful protest, and then extremists, militants and field commanders appeared in Kiev. They began shooting, riots, war on the streets of Kiev. I was shocked by the frames that show channels. It is more like the capital of a non-European state, and the state of the Middle East region.
- And now what? Will Ukraine maintain unity or disintegrate? Or will the regions become self-governing, like in the USA, where each state has its own constitution?
- Last Thursday I was in Kharkov at a congress of deputies of all levels of the south-eastern regions of Ukraine and Crimea. Some journalists called it a "separatist congress." I want to say that this is not true. I have not heard any separatist appeals. I heard the words of responsible politicians who cared about the territorial integrity of Ukraine, about its development and modernization, about eradicating corruption in politics, about the future of Ukraine as a single state - maybe federal, maybe confederative. I do not know. And they didn't know that. But with all my heart they hoped for unity.
- Does it seem to you now that Western Ukraine will begin to impose its will on the eastern regions, that the east will lose its right to vote? Or do you see some kind of balance?
"The voice of the west of Ukraine now sounds much louder, and the behavior seems more active and aggressive - because, as we know, the vast majority of participants in street clashes in Kiev are from western or central regions. Eastern Ukraine is much quieter. When I drove through the streets of Kharkov, life went on as usual: it was quiet, the police did not have a gunshot
weapons
everything was very calm. But the situation has changed: returning on Sunday morning to Moscow, I learned that even in Kharkov riots began. It looks like a chain reaction: demonstrations in the Crimea, in Sevastopol and throughout the country. The discussion between representatives of various political forces, between various political parties is heated to the limit.
- Law enforcement agencies in the eyes of the people are discredited. The government betrayed them. Will they be able to continue to maintain order in Ukraine?
- Once again, I note that the police, whom I saw in Kharkov, were not armed, and the army, as far as I know, keeps out of the political conflict, and, in my opinion, this is a reasonable solution. But ensuring security in Ukraine is not only a matter of fighting street crime or the physical security of citizens. Ukraine faces the issue of nuclear safety - there are six nuclear power plants operating there, 17 nuclear reactors are functioning. The total number of high-risk facilities in this country reaches two or three thousand, we are talking about the risk of chemical pollution - and none of the Ukrainian politicians says so. None of those who position themselves as the current government, and did not say a word about nuclear safety.
- Do you think there is cause for concern?
- Of course, because in January, protesters tried to storm the Ministry of Energy and Nuclear Power Plants in Zaporozhye. And we all remember that Chernobyl is located on the territory of Ukraine.
- Who will be responsible for nuclear power plants?
- God knows! After all, the so-called new generation in politics, which came to power, is much more important to demolish the monument to Kutuzov, or the Soviet soldier - by the way, the Ukrainian soldier - or a monument to Lenin, or the KGB. These people are worried about the future of the Russian language in Ukraine. But they don't think about nuclear safety.
- I would like to talk about the new generation, because ten years ago there was an "orange revolution", a desire to see a pro-Western political leader in power. Later, people were disappointed in this, and we saw a sharp turn to the East, and now we are witnessing a reverse process. Does this look like an endlessly repeating loop?
"I'm afraid today's process is somewhat different from what we saw in 2004." This is not a pro-Western movement in its pure form, since the statements of the leaders of the Ukrainian radicals resemble rather the statements of the Ukrainian Salafis. They say: "Europe is not the Europe we dream of, because there is an undermining of family and Christian values, same-sex marriages are allowed." It seems more like a European Taliban, if at all possible.
- Also I would like to understand why the protesters are still on the Maidan? What more do they want, what do they want?
- Good question. In my opinion, they enjoy the process itself. This is a revolution for the sake of revolution, and not for the sake of achieving the goal of this revolution.
- What to expect now? Who will lead the country? Tymoshenko was released, spoke at a rally, but could she unite all these very different opposition forces?
- I think that today the political situation in Ukraine is one of the most complicated in the whole world. Yes, there is a parliament in the country that adopts new laws, but can they enter into force without the signature of the president? It is assumed that the speaker of the Verkhovna Rada is temporarily acting as president, but here again a number of questions arise, for example, how much does this correspond to the current constitution of Ukraine or even the constitution of 2004? In my opinion, now we have a completely incomprehensible set of laws, and related to different
historical
eras. Because of this, it is difficult to understand what is legal in Ukraine and what is not. Of course, we hope that on May 25, Ukrainians will be able to hold democratic, open elections on a European model. The newly-minted president, who, it must be said, will have less power than his predecessor Viktor Yanukovych, since the 2004 constitution will be in force, will have to disentangle all this mess.
- What do you think about Tymoshenko? Could she run the country?
- Tymoshenko wants to take an active part in this process. She was a symbol of opposition, was a symbol of protests against Yanukovych when she was in prison. But now she is free; she has joined other opposition leaders who were on Maidan during her imprisonment. And they will certainly have to solve several difficult issues: who will be the main one, who will take part in the elections, who will take responsibility for the country during this transition period, because I think it will be one of the most difficult for the economy of Ukraine and its citizens.
- There is another aspect - the West and Russia. Western politicians are now engaged in a dialogue with Tymoshenko and conclude agreements as if she is the legitimate leader of Ukraine, and this is not so. What do you think about that?
- Now we behave with restraint, trying to study the Ukrainian situation. By the way, that's why my colleagues from the State Duma are now in Crimea, and on Wednesday a delegation of the Federation Council is sent to study the situation in Ukraine. We send missions to Ukraine to ascertain the facts that will work on the ground, talk with people - not only with politicians, but also with representatives of non-governmental organizations, religious leaders. Ukraine is a multinational, multi-faith country. And it is impossible to solve the country's problems, providing support only to Eastern Ukraine or Western Ukraine. Here there are Muslims, Crimean Tatars, Russians, Azeris and Georgians - the picture is very colorful.
- What is the current attitude of Russia to Tymoshenko?
- From Yulia Tymoshenko we have heard only preliminary political statements. She has not yet developed a presidential program, we do not know what her team is. Yes, we communicate with many politicians, with representatives of various political groups. We follow the process, do not want to interfere and do not want to be accused of the difficulties of the political process in Ukraine.
- Anyone in Russia or Ukraine can now predict who will be the next presidential candidate?
"I think in this presidential campaign we will see new faces, new potential leaders, perhaps representatives of the Ukrainian intelligentsia." I do not know.
- But not those whom we saw at the meetings?
"I'm afraid these people are more likely leaders of the past and the present, and Ukraine needs a leader of the future."
- There are a number of radical groups, dissatisfied with the fact that the crisis was resolved and began to be resolved. Do you think they will continue to fight for power?
- They continue it. As you know, in Kiev, even Yulia Tymoshenko's and Arseniy Yatsenyuk's cars were searched by these armed groups. Yes, they strive for power, they want to participate in it and, as I have already said, enjoy the process itself.
- Is their coming to power likely?
- The question is how strong will be the acting president and the current parliament.
- The nationalist opposition leader, Oleg Tyagnibok, said that all Russians would be deprived of their citizenship.
- By the way, the same thing he says about the Jews. That is, we are not the only target for Ukrainian nationalists.
- And what happens if he really deprives of citizenship of all Russians and starts punishing everyone who speaks Russian?
"Thus, he will destroy the country, destroy its unity, and destroy the future of Ukraine." Because, I am sure, neither the Russians, nor the Ukrainian Jews, nor the Armenians, nor the Georgians will be silent. They want to live in their own country, and their country is Ukraine. And in Kharkov at the congress of regional deputies they positioned themselves as Ukrainian patriots who want to fight for their country. And they will fight for their country.
- Some radical deputies claim that Russian troops are being pulled to the Crimea. Are they trying to provoke a confrontation in this way?
- According to the agreement signed by the legitimate government of Russia with the legitimate government of Ukraine, Russian military bases are located in Sevastopol. For us, nothing has changed, we maintain the status quo.
- Can it happen that Russia will consider the issue of sending troops to Ukraine?
- I think no.
- Do you fear for the future of the Black Sea base fleet in the eastern part of Crimea?
- The Ukrainian government has signed a legally binding agreement with us. We know that at some point after the expiration of its term we will withdraw a fleet from Sevastopol. Now we are preparing a naval base on Russian territory. Therefore, I think there should be no surprises on this score in our bilateral agreements.

- At rallies in Ukraine, it is often possible to notice politicians from the United States or the European Union. Why do they come there and what are their goals?
- Their goal, like any other politicians, is to be in public: they want to be seen, heard and recognized.
"But the Russian foreign minister said that the West has its geopolitical interests in Ukraine."
- Yes, like Russia.
- What are their interests?
- Their geopolitical interests, it seems to me, are obvious. There are still politicians in the West who think cold war categories, and some believe that the support of anti-Russian forces in Ukraine or in any other post-Soviet republic is in favor of NATO or the European Union. I think this is their serious mistake. For a pro-Western orientation, anti-Russian rhetoric is not necessary. The European Union is the largest economic partner of Russia. In my opinion, any of the former Soviet republics is best to maintain good relations with both the EU and the Russian Federation.
- But at some point there was a feeling that this was impossible and that one had to choose: either Russia or the European Union.
- Why Yanukovych and his entourage represented the choice of Ukraine as "either with Russia or with the European Union", I do not understand at all. After all, in the Cold War, for example, Finland and Austria are Western countries! - did not belong to NATO and, in a number of aspects, collaborated with the USSR. History knows many such examples of the fact that cooperation with one country does not mean enmity with another.
"It's just that in the West they perceive it in such a way that not Yanukovych made a decision, but Putin put pressure on him and on Ukraine."
- No, drop it. The decision was made by Yanukovych. He was responsible for this, he headed Ukraine. And, again, Yanukovych has been bargaining for almost two years, leading the game, promoting an alliance between the European Union and Ukraine, convincing the Ukrainian people that for them such a development path is the best. And overnight all beat. Why? What could Putin have shown so terrible to Yanukovych?
- But what's next? After all, Ukraine is on the verge of default. This year 8 billion dollars is required, next year 9 billion dollars is required. Who will give her the money?
- There is only one source - the financial "Twenty" together with the IMF, there are several channels - the European Bank for Reconstruction and Development, other international banks. I think now we need to discuss the future of the Ukrainian economy in a practical way, because the future of the Ukrainian economy will directly affect the future of Ukrainian politics.
- Russia has already sent billion-dollar 2 to Ukraine. What became of them?
- Good question. He needs to be asked to Yanukovych when he finally shows up.
"No one knows where he is, but since you mention him, what if he asks for asylum from Russia?"
- Well, I know for sure that he is not in Russia.
- And if he turns to Russia with such a request?
"I wouldn't have invited him to my house."
"But would Russia give him shelter?"
- In my humble opinion, no.
- Russia will continue to provide Ukraine with financial support?
- We maintain our connection, our relations with Ukraine, let's say, in all spheres and are not going to break them. We called our ambassador from Kiev for consultations, because we really need to consult with him and find out what is happening there.
- Who can I talk to?
- Yes it is. But our consulates are open, they work in Kharkov, in Simferopol, in other cities of Ukraine, so we will stay there.
- That is, as soon as a new legitimate government is formed, Russia will continue to provide Ukraine with financial support?
- It is necessary and the participation of the other side.
- That is, they can refuse further assistance?
- If we have a responsible partner, we will conduct a dialogue with him.
- The European Union declares that it is ready to send billion dollars to the new legitimate government of Ukraine 20. Where was the EU before when the past government acted? Why offers help now?
- To be ready to help and, actually, to help are different things. Maybe they are ready, but the problem is different: where is this legitimate government? It seems to me that the European Union reconsiders its behavior before signing an association agreement by Ukraine or not. We all remember that the EU insisted that at first Tymoshenko should be released, then it would be possible to sign an agreement with Yanukovych. In my opinion, the European Union more than Russia, created obstacles to the alliance between Ukraine and the EU. Now Yanukovych has disappeared, Tymoshenko is free, there is no government, the spirit of revolution reigns in the streets of Kiev. Do you really think that the European Bank in such conditions will be ready to give Ukraine money? Of course not. They are waiting for legitimate authority to emerge. And we are also waiting.
- President Vladimir Putin says that he will cooperate with the legitimate government of Ukraine, whatever that may be.
- This is true.
- Does this mean that gas prices will not change?
- I do not know, I do not work in Gazprom, and they better understand these numbers. But I know for sure that we have no choice but to cooperate with any legitimate government of Ukraine, because no one can just take a geopolitical eraser and erase Ukraine and Russia from the globe.