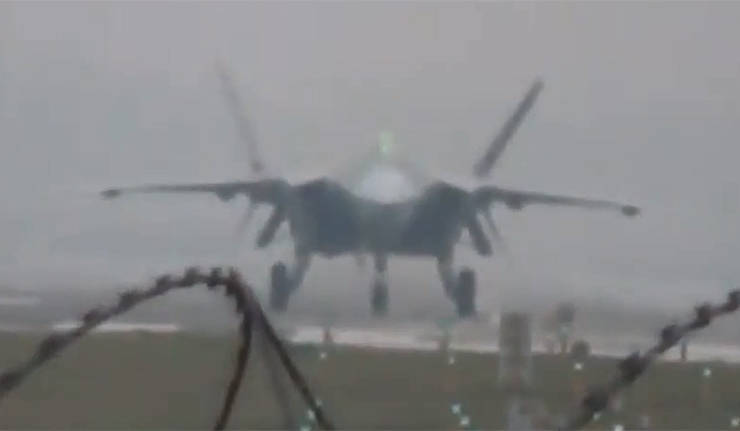 Video recordings of jogging through the third prototype of the Chinese stealth fighter "stealth" J-20 appeared on the Internet. Chinese engineers repainted their aircraft following the example of the Russian T-50 and gave the experts a reason to assume that the car would be used as a front bomber.
The rollout of the third sample of the Jian-20 (J-20) fighter with tail number "2011" took place at
aviation
base of Chengdu. The plane made a number of runs on the runway and, after acceleration, braked with a parachute. Experts noted that the design of the aircraft has undergone a number of changes: compared with the first two flight prototypes, it has other air intakes, the rear of the fuselage has changed, and under the nose there is a protrusion of an optical-electronic target tracking system designed to more effectively fire at ground targets .
The speaker unit of the opto-electronic sensor reduces the "stealth" -the characteristics of the aircraft, however, as noted by The Global Aviation Report, it allows you to attack ground targets, not posing as radio emission from the radar. According to foreign experts, this system will allow the J-20 to perform the role of a front-line bomber. For comparison, this system is not installed on the F-20 fighter. However, The Aviationist notes that this system is designed for the early detection of subtle enemy aircraft.
At the same time, the media report that the Russian fourth-generation AL-31FN engine is still installed on the aircraft; it is not possible to create our own new engine, or at least copy the AL-31FN PRC.
Among other innovations on the third copy of the J-20 is its gray color with bright edges near the tail (a similar approach to the camouflage scheme was recently adopted by the developers of the fifth-generation Russian fighter T-50, PAK-FA). Previously, all J-20 had a black color.
J-20 is not the only stealth istribetel, we are currently developing China. Another combat aircraft with stealth technology is the J-31, which is smaller than the J-20. It is expected that the J-20 will go into service with the Air Force of the People's Liberation Army of China no earlier than 2017.