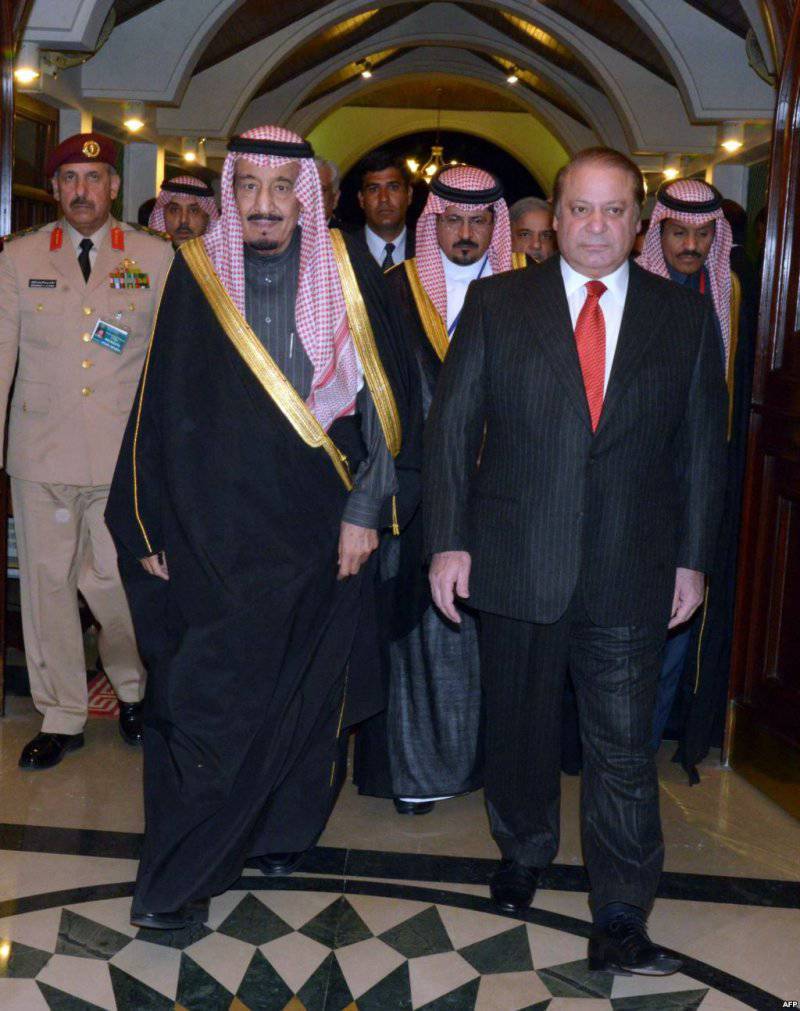 Crown Prince Salman bin Abdulaziz (Salman bin Abdulaziz, left), who is also Deputy Prime Minister and Minister of Defense of Saudi Arabia, has just completed his visit to Pakistan, according to voanews.com February 19.
Some experts believe that the strengthening of military cooperation between Saudi Arabia and Pakistan is entering a new dimension - to counter Iran, which could create a nuclear
weapon
. Riyadh fears that easing economic sanctions against Iran may allow Tehran to move faster in its nuclear ambitions.
"Iran is striving to become a nuclear power, and Saudi Arabia, which is a regional power, cannot ignore this threat," said former Arab Ambassador to Pakistan, Ali Sherazi (Ali Sherazi). Pakistan, as the owner of one of the largest armies in the world and the only Muslim country with nuclear weapons, has a "unique opportunity" to help Saudi Arabia in the military field. The head of the Center for the Study of this region at the University of Peshawar, Shafraz Khan (Sarfraz Khan), said that Iran and Saudi Arabia have conflicting interests in the Persian Gulf, and Pakistan can strengthen the position of the Saudis. "To counter Iran's influence, Saudi Arabia is increasingly looking towards Pakistan," he said.
Last year, the Air Force Agency (BBC) reported that Saudi Arabia had invested in Pakistan's nuclear weapons development program, but both countries denied this information. But there is no doubt that military cooperation between Islamabad and Riyadh is becoming increasingly active. This cooperation is manifested in many forms, including the training of Saudi pilots in parts of the Pakistan Air Force and the deployment of Pakistani troops in Saudi Arabia to ensure its safety. Military analyst, former commander of the Pakistan Air Force Nauman Wazir (Nauman Wazir) said that now Pakistan can supply Saudi Arabia with JF-17 Thunder combat aircraft and training aircraft. "For Saudi Arabia, there is no better aircraft for training and combat than JF-17. It has the capacity to support ground forces, "said the analyst. However, the joint statement of the two countries does not mention the interest of the SA to purchase these planes.
But Iran is not the only reason for the rapprochement of Pakistan and the CA. Pakistan is believed to be able to help the oil-rich kingdom fight al-Qaeda and effectively repel the armed raids by terrorists from neighboring Yemen. Pakistan also has border disputes with Iran, which mainly take place along the border of Pakistan's Baluchistan province. Recently, five Iranian border guards were captured by militants and sent across the border of Baluchistan into the interior of Pakistan, prompting Tehran to issue a warning that it could send troops to release them. Pakistan expressed "grave concern" about this threat. This incident has brought Islamabad and Riyadh closer together.
In addition, Pakistani Prime Minister Nawaz Sharif (Nawaz Sharif, in the photo on the right) enjoys extremely close ties with high-ranking members of the royal family of Saudi Arabia. When in 1999, as a result of a bloodless military coup, he was ousted from his post, Sharif and his family fled to Saudi Arabia. "During the reign of Zardari (Asif Ali Zardari, President of Pakistan from 9 Sept. 2008 to 8 Sept. 2013 - note" VP ") relations with Saudi Arabia were not warm, but, as we know, Prime Sharif has good relations with the ruling Saudi royal family, which further strengthens bilateral ties, "said the former brigadier general, a senior Pakistani intelligence official Mahmoud Shah.