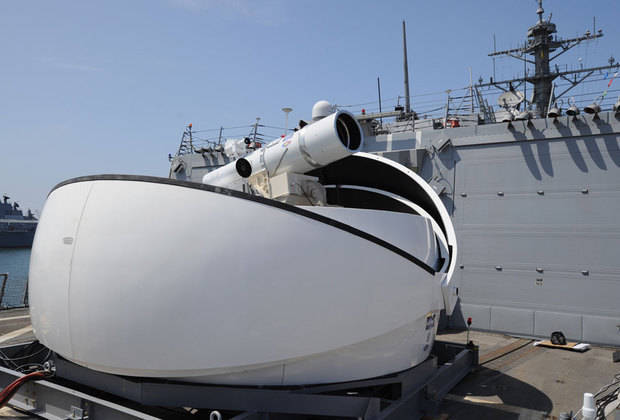 In the summer of 2014, the US Navy plans to produce the world's first equipment of a warship with a laser gun, reports AP.
The prototype of this futuristic
weapons
will be placed on board a large landing ship "Ponce", converted into a special forces floating base, reports RIA "
News
».
It is planned that the beam of the naval combat laser will be applied at a distance of up to 1,7 km against the so-called asymmetric threats. These include unmanned aerial vehicles and high-speed motorboats. Ponce serves in the Persian Gulf, where there is a problem of piracy.
Over the past six years, the development of a prototype shipborne laser of the US Navy has spent about 40 million dollars. The cost of a single laser shot is estimated at only a few dollars, while launching an interceptor missile costs about 1 million dollars. In addition, the laser has a virtually unlimited supply of shots.
"This technology is fundamentally changing the way we fight," says Captain Mike Ziv, who leads the Navy in the development of directed energy weapons systems. According to him, a laser beam that can literally burn a target is completely invisible to humans. Only one sailor can control the installation. It is expected that the laser tests will take place within a year, after which the issue of serial production and acceptance of new items will be considered.
In addition to the laser, the US Navy is also exploring the possibility of using a railgun - a powerful electromagnetic rail gun, which with the help of energy accelerates a conductive projectile along two metal guides. During the Navy tests carried out, the projectile was accelerated to a speed seven times the speed of sound. It is planned that the serial model of this gun will have a range of 180 km, and in the future - 400 km.
In the next two years, the Navy want to test the railgun on the water. So far, none of the American ships can generate the amount of electricity needed for this gun, but now the USA is building new type of destroyers, the Zamvolt, which this task will be able to do.