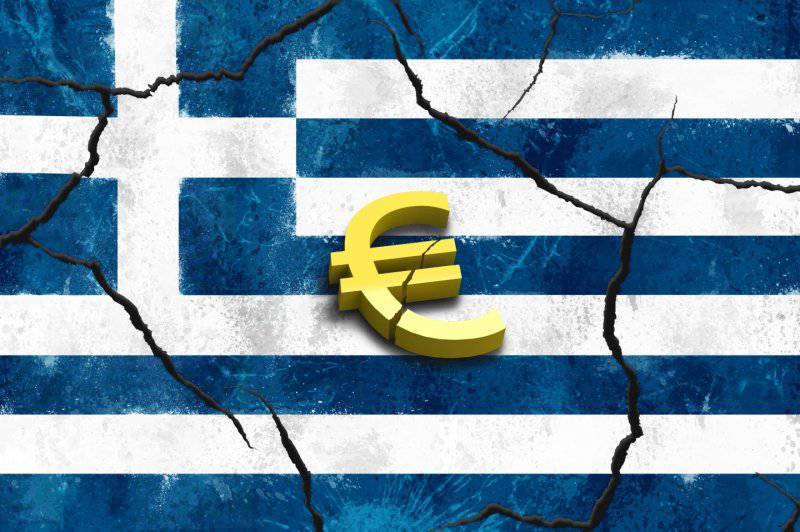 Contrary to the fact that Greece has no money, this country buys military equipment. Are they preparing for war? - the inexperienced reader will think. Perhaps, again, something is not shared with Turkey? Fortunately, there will be no blood, and the answer is much simpler: the Ministry of Defense of Greece is involved in an international corruption scandal. The Ministry at an inflated price buys military equipment in France, Sweden and Germany, and it also requires manufacturers to pay bribes when concluding contracts.
Greek surrealism
Calling the current corruption scandal in Greece as sensational does not make sense: since 2008, the country has been shaken by such a number of absurd scandals that "kickbacks" when buying military equipment seem innocent fun. Let us recall, for example, the city of the "blind", where every tenth resident had a certificate stating that he is visually impaired. It was possible to get a disability in Eleusia for as little as a thousand euros. These "investments" paid off in approximately three months.
The outbreak of weapons scandal is not so surreal, but its scale is surprising. In addition to Greek officials, foreign suppliers of military equipment were involved in it. And Western European, which adds a piquancy to the situation. Thus, the last corruption scandal is not a Greek, but a pan-European one.
While Greece is experiencing a financial crisis, and the Greeks are participating in thousands of protests, officials live in a parallel reality, where everything is fine. The country purchases military equipment, concludes contracts, and even fulfills its obligations in accordance with them. It seems that Athens is preparing for World War III: modernization is underway.
fleet
, new models enter the ground forces
tanks
and self-propelled guns, the Air Force received modern aircraft.
It seems that everything is great if it were not for one "but": the money allocated from the budget for the purchase of weapons falls into the pockets of Greek and European officials.
So, one of the military officers admitted that only he alone "earned" more than 15 million euros while participating in corruption schemes. One can only guess how much his colleagues got, including in France, Sweden and Germany. The European Union continues to harshly criticize developing countries for the allegedly unprecedented scale of corruption, although it has long been mired in this disaster.
According to political analyst Vasily Koltashov, corruption schemes in the EU are very large, although they do not cover most of the bureaucracy. Thus, a middle-level official may not even dream of receiving a bribe on a particularly large scale, since he practically does not solve anything. But his boss can count on paid "help" from the side, because so much depends on him. Corruption schemes involve military commanders, ministers, and high-ranking administrative staff.
All European parties are looking for sponsors. Large companies give them money, but with the proviso: when you come to power, please make some small concessions. At the same time, entrepreneurs finance politicians for a long time. Corporations prefer to build long-term relationships with political structures. This type of cooperation can be called strategic, that is, regularly allocating money for election campaigns, an entrepreneur, even after many years, can count on the support of the party.
Such a symbiosis of corporations with power holders has become commonplace for a united Europe. The commonplace is so familiar that Europeans consider party financing by private companies to be something that goes without saying. Europeans believe that they have no corruption; they denote all corruption schemes with the word "lobby".
In Western Europe, have already legalized soft drugs, prostitution, same-sex marriage. Why not legalize corruption? Parties and politicians even pay taxes on non-commercial income from various interested well-wishers. And, of course, nobody persecutes anyone: by European standards, everything is done "honestly" and transparently.
day of reckoning
Political scientist Vasily Koltashov believes that the governments of Western Europe were perfectly aware of the corruption nature
armory
deals with Greece. It's just that the Greek lobby did its best, warning the officials about everything in advance. And this is the norm.
The governments of France, Germany and Sweden, having contacted Greece, wanted to support their own economy, which, as we know, is in decline. They were not interested in what arms deals would turn out for Greece itself, and now that European manufacturers are embroiled in a corruption scandal, Western governments are unlikely to stand up to defend their faulty partner.
Who is to blame for the fact that corruption schemes, long established in Western Europe, will fail in Greece because of local high-handed officials? Let these "savages" from Eastern Europe get used to European standards of corruption, and call it the beautiful word "lobby". From a European point of view, everything is fair, isn't it?
But the Greeks do not think so. According to the majority of Greek citizens, joining the European Union turned into a collapse for the country and did not bring positive results. Unemployment is growing, corruption has become rampant, more and more illegal migrants from the east are arriving in the republic, social protests are spreading. There is no end to ugliness, and its reason is the first twenty years of EU membership.
During these years, Greece lived beyond its means. Athens borrowed from anyone who could offer money. There was no developed industry in the country anyway, and the beginnings of production were destroyed by European companies that flooded the Greek market with their own goods.
The problems of Greece were not noticeable until the 90-ies, but since that time their volume began to grow, like a snowball. Andreas Papandreu, the former prime minister of Greece, died in the 1996 year and left behind a lot of debts. It is said that a billion dollars, once borrowed by him, turned into 60 billion of debt.
The European Union has not developed a common economic policy with respect to Greece, and this irritates the Greeks. The EU promises help to Greece every year, but there are still no concrete results despite the fact that the country is getting more indebted. Now, when the country is faced with European realities, its citizens are coming out with a united front against the new economic measures of Western Europe.
The latest arms procurement scandal only seems to increase hatred of Western European governments and corporations. After all, in fact, Germany, France and Sweden robbed the Greeks, having committed a scam with the purchase of weapons. And, in addition, Greek officials took part in the robbery, which in the eyes of the people turned into collaborators. It is not known how this will end; most likely, the arms scandal will provoke new demonstrations, where the main requirement will be the resignation of the anti-Greek government.
In any case, the authority of Western Europe is seriously undermined. Greece is increasingly removed from the European Union, and the Greeks are unlikely to regret if it is excluded from the EU. The big gap between Athens and Brussels can be considered accomplished: neither Greece nor Western Europe no longer harbor illusions, and are ready for divorce.