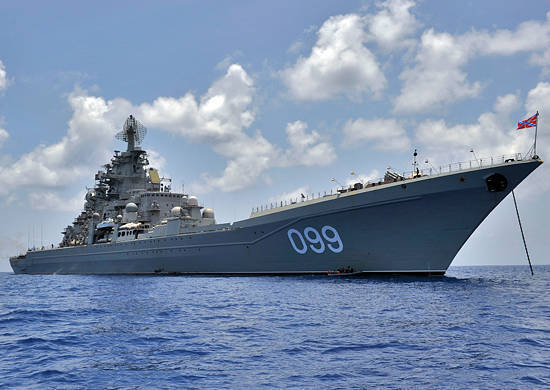 North heavy nuclear missile cruiser (TARKR)
fleet
Peter the Great, who heads the operational connection of the Russian Navy in the Mediterranean Sea, made a business call at the port of Limassol (Republic of Cyprus).
The visit of the Russian navy men to the port of Limassol was already the second in the course of the fulfillment of the long-range missions. The crew of the cruiser will be given the opportunity to relax, replenish stocks.
Earlier this week, the North Sea residents were involved in ensuring the safety of the third stage of the transportation of the Syrian chemical
weapons
in cooperation with the Chinese, Danish and Norwegian naval sailors. The actions of the ships involved in the operation were coordinated by an international headquarters stationed on board the Peter the Great TARKR.
The long hike of the heavy nuclear missile cruiser "Peter the Great" began on October 22 2013, leaving the main base of the Northern Fleet - the city of Severomorsk. November 10 on the cruiser housed the headquarters of the operational command of the compound operating in the Mediterranean on a permanent basis, which includes ships of the Northern, Black Sea, Baltic and Pacific Fleets.
During the long cruise, the cruiser overcame about 19 thousands of nautical miles.