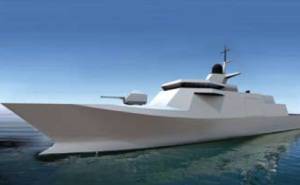 Naval Command
fleet
Russia abandoned the concept of corvette for the protection of water areas (IWR). Instead, it is planned to create patrol ships. Admiral Viktor Chirkov, Commander-in-Chief of the Russian Navy, said this in a blitz interview with the Central Navy Portal.
The Commander-in-Chief does not see a prospect in the creation of ships previously designated as "Corvette OVR". One of the main tasks of the OVR is to ensure the protection and defense of naval forces in the areas of naval bases and in the territories adjacent to them. This task is now carried out by coastal surveillance equipment, stationary sonar stations and coastal missile and artillery troops, armed with anti-ship missiles of different ranges, as well as anti-submarine and shock
Aviation
.
Rejecting the corvette, the Navy turned to the idea of ​​creating patrol ships - less armed, but with greater autonomy and versatility, capable, including, to go on long hikes. The design of the patrol ship will be handled by the North Design Bureau.
What the new patrol ships will be is prematurely speaking.
Corvette protection of the water area should have been a ships of modular design, equipped with a large number of robotic means. The ships were planned to assign tasks that must be performed in coastal areas. According to the plan, 5 corvettes were to be built: for each of the four fleets and one for the Caspian flotilla. The works would have been completed by the end of 2017.