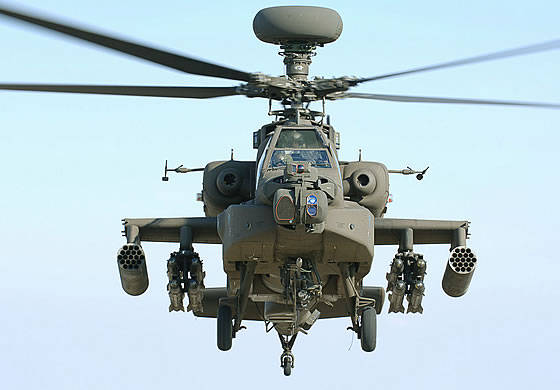 The United States Department of Defense Defense Cooperation and Security Agency (DSCA) has notified Congress of the planned delivery of attack helicopters AH-64E Apache Longbow to Iraq as part of the Foreign Military Sales program.
Taking into account the associated equipment, spare parts and maintenance services, the total value of the contract can be 4,8 billion dollars.
The Government of Iraq has asked the United States to purchase AH-24E Apache Longbow 64 attack helicopters, General Electric T-56-GE-700D, 701 X-NUMX engines of modern electric detection and targeting systems AN / ASQ-27, 170 modernized AN / ASQ-27 detection and targeting systems, modernized AN / ASQ-11 detection and targeting systems, and modernized AN / ASQ-12 detection and targeting systems. AN / AAR-78, 28 vision radar for millimeter-range fire control AN / APG-57 "Longbow", 7 rocket attack warning systems AAR-28 (V) 2, 28 laser radiation warning sets AN / AVR-39B, 4 Radar exposure detection AN / APR-39A (V) 2 or APR-28C (V) 136, 5 pos AN / ALQ-52A (V) 6, 90 interference recorder sets AN / AVS-60, 480 integrated helmets targeting and display systems Apache, 114 launchers for Hellfire missiles, XNUMX PTM and XM-XNUMX launchers for Hellfire missiles, XNUMX PTM and XM-XNUMX launchers for Hellfire missiles, XNUMX PTM-XMNXX-XMUMX-XNUMX PTN AG-NNXX-XNUMX, XNUMX, XNUMX, XNUMX ".
In addition, the request includes AN / APR-48A interferometers, AN-APX-117 identification system transponders, integrated GPS / inertial navigation systems, MXF-4027 radio stations, 30-mm automatic guns, airfield launchers, 2,75- inch NAR "Hydra", 30-mm ammunition, advanced infrared traps М211 and М212, spare parts and components, auxiliary and training equipment, technical documentation, personnel training, technical support from the US government and the contractor, other related elements aterialnogo software.
According to the notification, the new helicopters will strengthen the capabilities of the Iraqi Armed Forces to protect against terrorist attacks and conventional threats, increase the security of oil infrastructure and platforms, and strengthen the country's sovereignty. The sale of the AH-64E will contribute to the efforts of the Iraqi Armed Forces to create a fleet of multipurpose attack helicopters that can be used to
aviation
support, intelligence and combat
tanks
.
The main contractors for the program are Boeing (Boeing), Lockheed Martin, General Electric, General Electric, Lockheed Martin Mission Systems and Sensors, Longbow Limited Liberation Corporation "(Longbow Limited Liability Corporation) and Raytheon.
Notification of a potential sale is required by US law and does not mean that the transaction will be necessarily concluded.