Izhevsk Electromechanical Plant Kupol Open Joint-Stock Company (IEMZ Kupol OJSC, Izhevsk) will present at the International Exhibition of Land and Naval Armaments DEFEXPO INDIA-2014 a unique exhibit - a full-scale example of a TOR-M2KM air defense system "In modular design on the wheeled chassis of the TATA car. Also at the exhibition will be presented a full-scale sample of an autonomous simulator of a commander and an operator on a car chassis.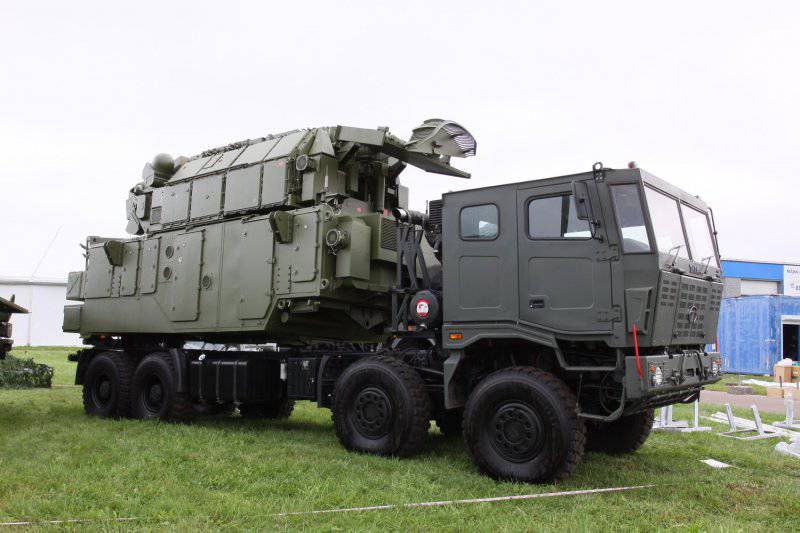 From 6 to 9 in February 2014 in Delhi, India, in the exhibition complex Pragati Maidan will be held the international exhibition of land and naval weapons "DEFEXPO INDIA-2014".
IEMZ Kupol OJSC will present full-scale samples of the TOR-M2KM air defense missile system in a modular design on the chassis of the TATA vehicle and an autonomous simulator of the commander and operator of a combat vehicle.
The TOR-M2KM air defense system with combat and technical equipment in a modular design is the latest development of Almaz-Antey Air Defense Concern OJSC and Izhevsk Electromechanical Plant Kupol OJSC. It has high reliability and efficiency in the fight against actively maneuvering air targets, managed and planned.
aviation
bombs, anti-radar, guided and cruise missiles, unmanned aerial vehicles, airplanes and helicopters. The complex is equipped with modern computing facilities and modern radars, which allow to detect and process up to 48 targets, simultaneously track up to 10 of the most dangerous targets and ensure the simultaneous defeat of four of them. In the modular version, it is possible to place an autonomous combat module on the roofs of buildings and structures, on inaccessible areas, trailers, semi-trailers, on railway platforms and even on small vessels capable of withstanding a load of more than 20 tons. The module design provides transportation on the external suspension of the MI-26T helicopter and its analogues.
The autonomous simulator of the commander and the operator is made in the form of a unified container and is designed for training and training the combat vehicle calculation for detecting, capturing, tracking and hitting targets in jamming and noiseless environments, as well as for monitoring the quality of the calculation work. The simulator can be placed on the car chassis, semi-trailer of the appropriate capacity or in the stationary version.
More information about the Tor-MHNUMXKM air defense system can be obtained here: http://kupol.ru/spetstekhnika/zrk-tor-m2km/.
The exhibition will also feature models of the TOR-M2E air defense system, the Osa-AKM air defense system, the TOR-M2KM air defense system model in a modular design.
The exposition of JSC Concern Air Defense Almaz-Antey will be located in the pavilion 12А, at the stand 12.36. We invite you to visit her from 6 on 9 February 2014, to get acquainted with new models of air defense equipment and get advice from our experts.