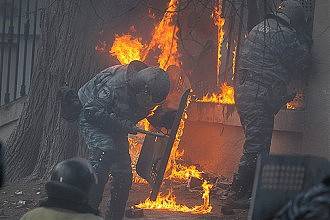 Several thousand attack aircraft without ideology, or rather with the Nazi ideology, relying on opposition media, turn Ukraine into a country of war.
Ukraine is divided into two sides of the barricades, and not into power and opposition. While the television picture produces new heroes from attack aircraft, who have caught courage in the fight against everyone, dozens of wounded soldiers with terrible burns, injuries from metal pipes and bolt-on explosives, are in the hospital of the Ministry of Internal Affairs.
They do not notice the opposition media. "So many were willing to interview, and no one comes," - the first thing the fighter of the special unit "Berkut" tells me when I went to his hospital. He has been a week for treatment. Sensibly limping. "It happened last Sunday, on Grushevskogo. I hear a buzz - an explosion ... fell ... ", - he explains and asks me not to call his name.
- Are you afraid?
- We are forbidden to communicate with the press.
- Why did you call me?
- I want people to hear my truth.
I don't understand what kind of strength a petard should have in order to knock down a "berkutovtsy" in full uniform, a man of about forty under two meters tall, whose width is impressive. The face is calm, but in the eyes of read deadly fatigue. Communicating, I for myself refute the most recent of the offenses of opposition leaders in relation to the security forces. My companion is smart. No matter how much the people's deputy of Ukraine Lesia Orobets would like this, the soldier of the "Berkut" is smart and logical.
"How is it in the country?", - asks the Berkutovets. "All the same," I replied, we are walking along the hospital corridor in search of a quiet place to talk. I was scared: towards the guy years 20, who has almost half of his face in burns. "There are a lot of people like that here," the Berkutovets catches my fleeting numbness.
- Who are you standing for? - we sit down, start a conversation.
- For the legitimately elected power. Viktor Yanukovych is the legitimate president. After all, what is the security forces? They ensure the security of the country. Take, for example, the United States. Is there no security forces who protect the state and the government - local, regional, state?
- You are not embarrassed by the discontent of the people with legitimate authority?
"We have nothing against the protests." But the protests must take place legally! Why the opposition does not hold fees in cities, enterprises, advertising its candidate? I am more than sure that including many fighters of the "Berkut" would make their choice of 29 March 2015 of the year in their favor. The police are also people, we are not satisfied with much, we are waiting for a change. But we are not waiting for coups.
We are distracted by the doctor, who is passing through the hall, asking to speak more quietly. At this time, the caller pulls a phone out of his checkered pajamas pocket. "I'll show you a video now. I filmed 1 December during the storming of the Presidential Administration, "he pulls me the phone, warning in advance that I will not be able to take the record with me. On the ground lies a man, handcuffed. He is not alone. On the side - stacks of bits, iron pipes, brass knuckles, knives. It does not touch me, recently got used. Puzzled a bundle of money. "In his pockets he had 15 thousand hryvnia. Filmed not only me, but also several journalists. True, for some reason they didn't show it, "the interlocutor's face became hard.
"What channels do you watch?" - trying to catch the mood. "5 channel and 1 + 1 in recent times do not look fundamentally. Lies and bias. "
- We were transferred to Kiev in mid-November. I was 30 in November on the Independence Square, but did not participate in the operation. It was December 1 near the Presidential Administration. I was wounded at Hrushevsky. It's a shame when they make you an enemy of the people. The policeman is not a provocateur. The policeman is legally inviolable by law. For some reason, the television did not bother to show how November 30 threw glass jars of peas into our faces, beat them with sticks and bats. No one has shown that the clash began through no fault of the "Berkut", but when there was a threat to people. "Golden Eagle" then applied force only to provocateurs. However, nobody cares about that. To hell with the fact that one of ours had a liver ruptured on Hrushevsky, another one was shot with pneumatics! He became disabled!
- You are accused of deliberately beating journalists.
- Yes, it's funny! I am silent about the fact that journalists have long crossed the line. When 1 December went ahead, one of them started shouting: "I'm a journalist, don't touch!". And then he put the camera on the ground, took a stone and hit a soldier moving next to his head. Can this journalist be called an extremist?
- Is the Golden Eagle integral?
- I understood what you mean. Going to the side of the opposition is excluded. There is a legitimately elected president - it does not matter, good or bad, but he is. Today we are called Yatsenyuk "let's go", and tomorrow - Vasya and Petya, and we have to go again?
The "Berkut" defended all presidents and, I hasten to remind you, the same politicians who are now eager for power.
- Why are "Berkutovtsy" fired in Lviv?
- Many of them are my old friends. First, those who are already of retirement age are dismissed. Secondly, you will never be told by independent media that their families are being bullied. Here's what to do when you're in Kiev, and thugs break in through the door to the spouse and give ultimatums?
- If Yatsenyuk was a conditional president, would you defend him?
- If Yatsenyuk becomes president in such a way, I will resign. Dissolve the special unit "Cobra" for some finger? .. His current road is covered with blood.
A doctor comes up to us the second time and asks to move away from the wards with the sick. I again meet in the corridor a few soldiers of internal troops with burned faces. "Why will none of the journalists take permission from the head physician and come to shoot the wounded? - surprised "berkutovets." - Video with a naked detainee remember? Do you think it was specially stripped? No, they are all saturated with flammable substances. Why was a fireman walking behind the back with a fire extinguisher? And what if someone throws a petard - then you do not quench it. So it is better to hold 5-10 for minutes in the cold or risk burning, which security officials will undoubtedly blame. ... And what did he have in his hands? Sapper shovel, with which he broke the helmet of a child from internal troops. The guy is in the hospital, the "hero" is at liberty, he is interviewed. Nobody needs this truth ... "
- how
weapons
do you use?
"Look, we were even ordered to take off the holsters!" Flash-noise grenades have several times less power than firecrackers, which are tied to bolts and stones, and then thrown in our direction. A rubber bullet of the sample, which received, no danger to human life is not.
"Yes, but you are credited with murder."
- We have no firearms. And during the meetings never happened. Politicians wanted blood - they got it
I look at the interlocutor, the mimicry of his face quickens, he shifts from foot to foot. Murder charges hooked. And perhaps, the understanding that he is unlikely to believe someone.
- Why do they hate you?
- And which dog loves the stick? In America, the police are smiling, but they hate behind their backs
- There are rumors on the Internet about the different amount of the promised bonus - from salary increase on 700 hryvnia to 15 000 dollars, if the power is held back. Specify the amount so that we have reliable information that will not harm your honor.
- will you have such data? No bonuses, I get paid, I stand for the state. Here are the radicals that threaten our lives and health, get good money. But again, this is unprovable.
- They say that the "Berkut" will have enough 5-10 minutes to clear the Maidan.
- 10 minutes? Not. Minutes 30-40. What is most important? Catch the ringleaders. But those who call, unfortunately, the fastest and run away. Paradox: the police use truncheons here, we enter into tactile contact, and this is never allowed in Europe. They use special equipment and weapons. So let's integrate into Europe, starting with the application of European practice during the rallies!
- And the barricades?
- Props. We are all trained fighters, most of them are former sportsmen participating in anti-terrorist operations ...
- What happened to Ukraine in 10 years, since the Orange Revolution?
- Politicians change people. In 2004, I could quietly come to Independence Square without fearing for my life.
- Are you scared?
- I will defend the family with all legal means ... Do you think that there are no Yatsenyuk, Tyagnibok or German Klitschko addresses on the Internet? They all need to understand that a response can follow if something happens to our families.
- Are there any misunderstandings in relation to commanders who do not give an order?
- What is the order? Law? Orders are not discussed. However, we will never shoot at peaceful people.
"But the protesters are doing whatever they want with you."
- They do not spit in me, but in the state. We would like changes in the country - we would vote in the elections as we see fit.
- Do you believe politicians?
- No longer. Do you think it was easy for me to break myself to stay in the bodies when Yanukovych came? Now someone offers me a specific plan of action? Yanukovych for 4 did not bring the country out of the crisis, and I definitely will not vote for him. But for Yatsenyuk, whose hands are in blood, I will not vote either. Faster go to the polls and tear the newsletter.
- Well, if Yatsenyuk becomes president in the next election?
- So we will protect. We chose our job.
At this time, the interlocutor rings the phone. The conversation is interrupted for a few minutes: he explains to someone that he is in hospital. I have time to peer into the face of a man whom my dear colleague, Daniel Yanevsky, called the Einsatzgroup fighter. He notices this, responding with a look in his eyes.
- We will stand as long as necessary. Week, month, year.
- Where do you live?
- In the Cabinet of Ministers.
- How long are the fighters on the front line?
- Enough to have a good rest later.
- When was the last time you saw your family?
- More than a month ago. Wife does not even know that I am in the hospital.
This concludes the interview. "Berkutovets" conducts me to the exit, asks to convey to all journalists to be at least a little more objective, looking on the other side of the barricades.
In parting, I respectfully shake hands with a man whom many of my acquaintances are ready to lynch. World has gone mad!