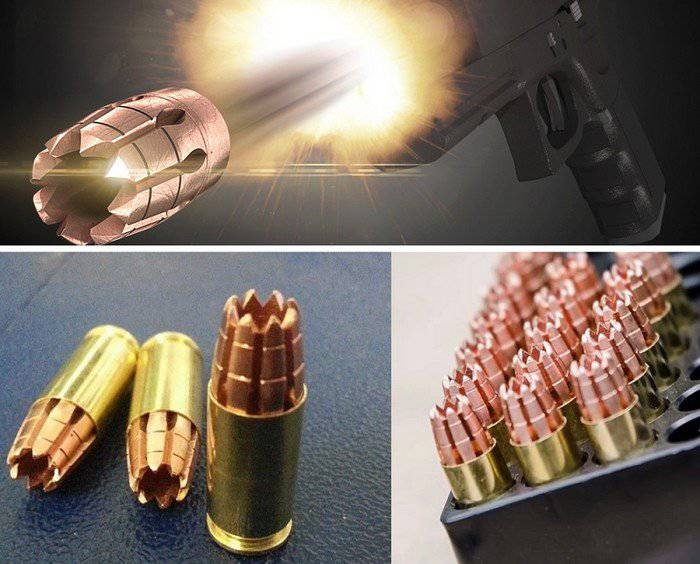 G2 Research introduced a new 9-mm cartridge with a unique expansive bullet.
The small teeth of this bullet, which the manufacturer called trocars, cut clothing, glass, drywall and even sheet metal as a hole saw, allowing the bottom of the bullet to hit the target more confidently.
Also, as the developers claim, these trocars, creating a turbulent flow, help stabilize the bullet and make it more accurate.
Many shooters try to use the heaviest bullets allowed by the characteristics.
weapons
. But, unfortunately, high speed and weight are not the only bullet characteristics necessary for accurate and effective shooting.
According to some testers, there is no guarantee that the bullet will not open ahead of time and these trocars will not injure people in the vicinity of the shooter.
Suppliers say such cartridges will cost around 2 dollars apiece. Expensive, considering that most instructors recommend making 100-200 gun shots in order to ensure its reliability.
These cartridges have a very aggressive profile and it is important that they are perfectly sent to the weapon chamber.
The bullet is lead-free, solid, weighing in 96 gran, divided into 9 trihedral teeth (trocars).
The initial speed of the bullet - 386 m / s.
Muzzle Energy - 660 J.
In the near future, G2 Research Company intends to launch the production of .380 ACP, .357 SIG, .40, .45ACP cartridges, as well as gun cartridges equipped with such a bullet.