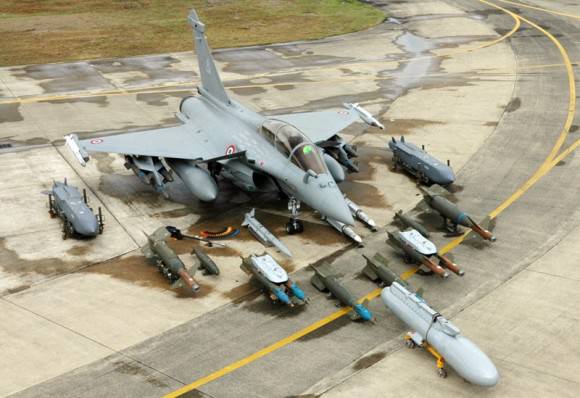 India plans to purchase 126 fighters Rafale faced with "bad weather", according to January aereo.jor.br 27. Two years after winning the tender, the French company Dassault Aviation increased the cost of the aircraft by 100%.
In 2012, Rafale was declared the winner of the competition, the cost of one aircraft was declared in the 60-65 area, million US dollars. However, now its cost can reach 120 million dollars, a source from the Ministry of Defense of India said. The second finalist - Eurofighter Typhoon - announced the price of one aircraft in the amount of 80 to 85 million dollars.
The growth of the contract value will mean that 126 Rafale will cost India no less than 28-30 billion. Indian Defense Minister A.K. Anthony (AK Antony) said that "the value of the contract is out of control, it bothers us." In a few months, the general election of the authorities will be held in India.
In 2007, the tender price was announced in the amount of 12 billion, in January 2012 increased to 18 billion. 18 aircraft must be purchased from France, the rest 108 machines licensed at the aircraft factory in Bangalore.
Indian Air Force sees Rafali as primary fighter fighting force
aviation
over the next 40 years. "As the chances of signing the contract melt away, we have no other alternative to replace obsolete fighters," says another source. The military aviation command wants to replace the MiG-21 with modern fighter jets that would stand between the Su-30MKI ("high class") and the LCA Tejas ("low level"). The Air Force has 45 fighter squadrons, but only 30 of them are considered combat-ready due to the decommissioning of outdated fighter types.