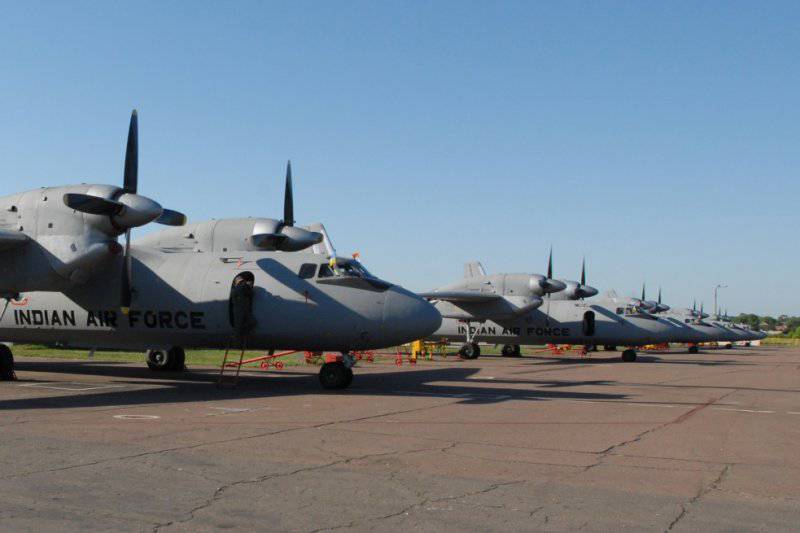 Ukraine is preparing for February the transfer of India to the next, seventh, batch of An-32 vehicles consisting of five vehicles, upgraded at the facilities of the Ukrainian defense-industrial complex, ordered by the Indian Air Force. Interfax-Ukraine reports this, citing a source in the defense sector.
Now in Kiev at the SE "Factory 410 civil
aviation
"with the participation of Antonov GP specialists, work is underway to modernize the next five An-32s of the Indian Air Force. According to the interlocutor, 30 out of 40 aircraft have been modernized and handed over to the customer so far, which, according to the contract, should be modernized in the country.
"Back in July of last year, the eighth batch of Indian cars arrived in Kiev to upgrade, which, in accordance with the terms of the Indian contract, should be the final batch of aircraft being upgraded in our country. It is scheduled to be handed over to the customer in May," he said. .
"Given the high pace and quality of work performed by the Ukrainian side, the parties are considering the possibility of increasing the capacity utilization of the Ukrainian contractor under the contract," the agency's source said.
The contract for the amount of about 400 million dollars for the repair and upgrading of X-NUMX machines An-105 of the Indian Air Force was signed in July 32 between the Air Force of the Ministry of Defense of India and the subsidiary of the state company Ukrspetsexport - Spetstechnoexport.
According to the contract, which has become the largest
stories
Ukrainian-Indian bilateral military-technical cooperation; Ukraine will upgrade 40 aircraft, the rest of the equipment - at the aircraft plant of the Indian Air Force BRD-1 in Kanpur. The contract performers are the Antonov State Enterprise and the State Enterprise "Plant of the 410 Civil Aviation" (both are Kiev).
As part of the modernization of the Indian aircraft installed modern equipment of Ukrainian and foreign production order 25 names, allowing to improve flight safety, in particular, equipment to prevent collisions of aircraft in the air, early warning of a collision with the ground, satellite navigation system, aircraft rangefinders, upgraded radio altimeters, radar with two multifunctional indicators, new oxygen equipment, improved crew seats.
The upgraded An-32 will be able to land on the II category of the ICAO. At the same time, fuel consumption and the mass of an empty modernized aircraft will be significantly lower compared to the base case. In addition, in accordance with Motor Sich OJSC (Zaporizhia) concluded in December of the year with the Indian Air Force, a three-year contract worth $ 2009 million, the AI-110 engines of Indian An-20 are being upgraded.