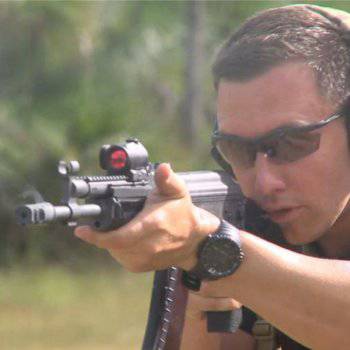 A series of lessons on the modern handling of AK from the American instructor Travis Haley.
Travis Haley, former CEO and founder of Magpul Industries Corporation, is an outstanding personality. For fourteen years, he participated in military operations around the world. Travis Haley is a veteran of maritime intelligence, he participated in the fighting in countries such as Kuwait, Iraq, Afghanistan, as well as in the Balkans and in Africa.
After leaving military service, he worked for a long time as a contractor for government companies and private corporations during numerous special security operations. His job was to provide security during special operations by the US government. In addition, Travis Haley provided security for prominent senior government officials, members of the United States military leadership, as well as a large number of foreign diplomats.
As the founder, president and CEO of Operations of Dynamic Tactical, Hayley has developed several unique tactical programs for training military officers, government security officials, law enforcement officers and all willing individuals. After some time, the methods of Travis Haley became the basis of the training programs of Magpul Dynamics Corporation, in which Travis for some time served as CEO.
This corporation is engaged in the development and conduct of special tactical trainings that are focused on the military, state law enforcement officers and security guards working in private security organizations to get them the necessary skills in their activities.
weapons
. The development and conduct of such trainings were carried out by teams of instructors who gained real combat experience of participating in special operations around the world. Magpul Dynamics Corporation's trainings have a different level of complexity depending on the qualifications of its students: it is possible both to teach beginners the basics and to conduct advanced training courses for professionals.
For a long time, Travis Haley served as CEO at Magpul Dynamics. In January 2011, Travis Haley left this post and founded his own company called Haley Strategic Partners.
№2 (modern manipulations with AK)
Tip 1 (fuse)
2 Tip (Cocking)
No.3 (tactical recharge)
No.4 (transition to the secondary)
No.5 (Reconciliation Basics)
No.5-2 (introduction of amendments)
No.5-3 (distance alignment)
No.6-1 (balance of accuracy and speed)
No.6-2 (2 balance of accuracy and speed)
No.7 (faults)
No.8 (ammunition)
No.9 (long distance)
Sources:
http://www.gearshout.net/
http://www.youtube.com