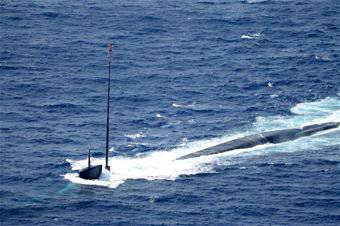 "More than 60 percent of US submarines with atomic
weapons
concentrated in the Pacific Ocean, fulfilling the tasks of nuclear containment of Russia, China and North Korea. At the same time, at any time, 4-5 submarines are ready to launch a nuclear strike immediately, "
report "US Nuclear Forces, 2014"
published in the journal Bulletin of the Atomic Scientists.
The document, prepared by two well-known American experts Hans Christenson and Robert Norris, notes that at the moment the United States has about 7400 of various types of atomic warheads. Of these, 2700 are preparing for destruction, according to international agreements, 2530 are in storage, and 2120 are in service. Of the latter, 1152 warheads are deployed on intercontinental missiles on submarines, 470 - on land-based ballistic missiles, 300 - on bomber and less than 200 are tactical nuclear warheads.
As the report shows, the United States, in its strategy of nuclear deterrence, relies primarily on nuclear-powered submarines. At the same time, nuclear-powered submarines "in more than 60% of cases conduct patrol activities in the Pacific region." "This is done in order to launch a nuclear war, if necessary, or to launch retaliatory strikes against China, North Korea or the eastern part of Russia," the document says.
A total of 12 submarines with nuclear weapons are on board for combat patrols. Of these, 8-9 submarines are constantly in strategic areas. At the same time 4-5 submarines, as noted in the report "US Nuclear Forces, 2014", are in a state of constant combat readiness in order to immediately strike at pre-selected targets.
The document also states that, on average, each US Navy submarine with nuclear weapons conducts military patrols per year for 2-3. Each such trip lasts an average of 70 days, but in some cases the duration increases to 100 or more days.
Scientists recognize that recently, in connection with the international agreements concluded, the United States began to reduce its patrol activity with forces capable of carrying nuclear weapons, but the Barack Obama government intends to spend around 30 billions of dollars in 200 years to modernize its atomic arsenals. Experts warn that nuclear weapons in the world constantly threaten all life on Earth, as they can provoke an atomic conflict due to some tragic mistake.