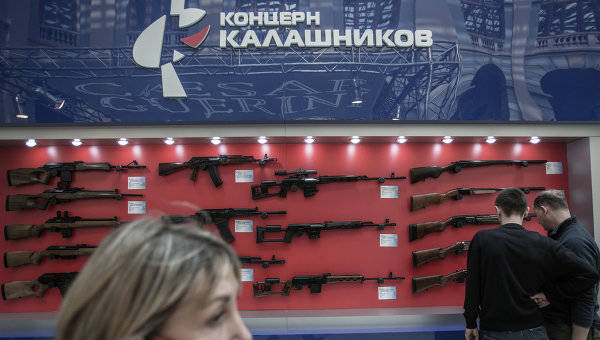 The Kalashnikov Concern will conclude an exclusive agreement with the Russian Weapon Company (RWC) on the supply of Izhevsk gunsmiths' products to the United States. As the correspondent reported today. ITAR-TASS Concern spokeswoman Elena Filatova, the document will be signed at the largest international
armory
Shot Show 2014, to be held January 2014-14 in Las Vegas.
The official ceremony will be attended by Pavel Kolegov, Deputy General Director for Sales and Marketing of Kalashnikov, and Thomas Makkrosin, General Director of RWC Group LLC (RWC Group LLC). According to Kolegov's forecasts, with the help of an exclusive dealer represented by RWC, the concern will be able to sell up to 200 thousand units of civilian weapons annually in the United States.
Kalashnikov has been cooperating with the RWC for two years. "The results of 2013 showed that the order of 90 percent of all sports and hunting weapons exported by the concern is shipped to the USA," Filatova said. According to her, the signing of the contract will expand the scope of joint work, "in particular, by increasing the product range of Izhevsk Mechanical Plant."
At the stand of the exhibition "Shot Show" will be presented about 30 models of civilian weapons brand "Kalashnikov", available for export to the United States. Among them are the Saigi models for various cartridges, the Elk, Bars, Sobol, and Record carbines, as well as hunting rifles of the Izhevsk Mechanical Plant.
"Kalashnikov" - the largest Russian manufacturer of automatic combat and sniper weapons, guided artillery shells, as well as a wide range of civilian products - hunting rifles, sporting rifles, machine tools and tools. The concern united the largest state enterprises of the shooting industry of Russia - "Izhmash" and "Izhevsk Mechanical Plant".