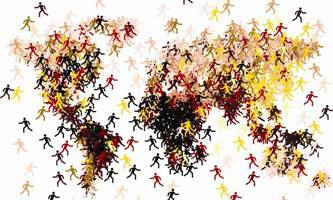 We are accustomed to treat demography not as a separate science, with our own postulates, laws and nuances, but as a dry section of statistics. Usually, we are only interested in the statement of changes and trends. In this connection, state bodies should also be interested in the adjustment of the demographic policy,
if any.
Meanwhile, in a world with tremendous speed in
historical
to standards, processes are taking place that can be ignored only by completely irresponsible and careless leaders of states.
The so-called "developed" Western countries are indicative in this sense. They were captured by such a wave of various currents of liberalism, as well as its extreme, "limitless" manifestations, that almost all the leaders of the countries of this group are concerned about the "rights" of sexual minorities, etc. much more than real problems and threats.
The example of these countries is more than indicative, because almost all of them are the winners in the end,
either involved in These
due to unifying European processes and transatlantic economic and military cooperation. They won victories in the colonial wars, the two world wars and the cold war. We will not consider many local military conflicts due to the insignificance of their influence on the context of our topic.
With the collapse of the de jure colonial system, a new stage of development began, characterized by a new colonial dependence - the financial one. This is a modern, sophisticated form of withdrawal of wealth from former colonial countries. Its introduction almost completely eliminated the negative economic consequences of the loss of colonies. In fact, the growth of the wealth and well-being of the former metropolis not only did not decrease, but increased many times over. Indeed, many previously formally independent countries, including Ukraine and Russia, have fallen into new colonial financial dependence. It would seem that the success of the winners is absolute and undoubted, but the new system has corrupted the modern elites so much that the timeliness and adequacy of their reactions is a big question.
A new liberal "fashion" of denial, and in many cases of persecution and forced exclusion from society of conservative family values, has led to an annual sustainable
decrease
title
European and North American countries. The decline in the birth rate of this category of population is so great that, for example, in London schools in 2013, pupils of non-British ethnic origin already exceed half of the total number of pupils. And these are mainly children of Asian and African descent.
The social policy of the "neo-socialists" greatly relaxed the able-bodied population of Western countries. Many people prefer not to work, receiving high unemployment benefits and all social benefits. Naturally, this is due to the robbery and impoverishment of the rest of the world.
But all this beggarly and bonded conquered world does not expect its end without submission. Unlike their own elites, resigned and adapted to live in conditions that are given to them "from above," ordinary people are in a state of active fermentation and movement around the world. They, like ants on sugar, penetrate everywhere and everywhere, filling the entire Western world without a trace. Moreover, the population growth in the former colonies is so great that, for example, over the past 50 years, the population of some countries
has tripled.
Naturally, the burden on their social and economic systems is growing, and people are being pushed out of their countries, voluntarily or involuntarily. Where to go? Naturally, go to the West, with its liberalism, tolerance and "socialism", high level and way of life. And these people are mostly not Europeans, they are Asians and Africans, with their own culture and traditions. They do not assimilate, but, as a rule, create their enclaves, multiplying rapidly.
The population of Europe over the past 50 years has increased by about 20%. And this did not happen at the expense of the indigenous population, which, according to some estimates, was reduced by 10-12%.
Against this background, the so-called multiculturalism policy, presented by the majority of the liberal elite of Europe as a panacea capable of preserving the European cultural and civilizational space, suffered a complete failure. Even "notorious" liberals have recognized this now, but have come to terms with it, because their "values" are above all.
You do not need to be a soothsayer to project the situation for the next 50 years. Europe and the whole West are waiting for the fate of Ancient Rome, which sank in its debauchery and disappeared by the laws of social nature, unable to resist the "sweet" death.
therefore
demographic situation can be safely attributed to arms mass destruction of slow action.
Although at the present time social processes are so accelerated that to name the slow death of millions of people and civilizations in historical terms, the language does not turn. In this sense
I would consider liberalism in its modern, extreme manifestations as a weapon of mass destruction.
This is actually liberal antisystemic extremism of a totalitarian nature, with signs of social, ethnic, and cultural genocide. Judging by
results
his "introductions", because they, even for very narrow-minded people, are too obvious for perception and understanding.
You can have a strong, invincible, armed "to the teeth" army and at the same time lose to a weak and helpless opponent, which no one counts for the enemy. In this sense, I liked the phrase of one of the authors, maybe he also read it somewhere: "The Mongols seized China, well, they will now have to become Chinese."
It is therefore good when there is a strong economy, convertible currency, unsurpassed weaponry, efficient army, but
if there is no correct demographic policy, the collapse of society is inevitable
. This is a law of public nature.
As for Ukraine, and Russia too, over the past 20 years we have seen a steady decline in the birth rate and a rapid decline in the population. We will not touch the causes and extent of this phenomenon, a lot has been said about this. But in a nutshell it can be described as
genocide or ethnocide, as you like it, judge by the scale of the rate of decline, loss of quality of the population and the devastation of territories
. Deliberate genocide - or not? This is also a separate and extensive topic ...
Now we will consider the internal demographic and migration policy pursued by our countries, if it can be called such. Although there is some kind of demographic policy in Russia, it is based only on the availability of additional financial opportunities and
carried in the form of payments and benefits for the birth of children.
In general, in a quantitative sense, she brought a slight result. In Ukraine, the decline in population continues. This is primarily due to the lack of necessary financial opportunities and a lower overall standard of living.
But I would stress and pay more attention not to the quantitative aspect, but to
qualitative
. What quality of the population do we have by stimulating fertility in this way? After all, it is no secret that in Ukraine only the poorest or asocial strata of the population "peck" on these payments. Frankly, I mean "professional" beggars, alcoholics, drug addicts, people without shelter and work, etc. How will they raise their children and what will they teach? And the majority of normal, responsible citizens, in spite of benefits, still plan to have children only on the basis of their capabilities. therefore
emphasis must be placed on the expansion and emergence of these opportunities.
I believe that
It is necessary to keep the childbirth allowance.
But at the same time, to introduce restrictions for some categories of citizens and to create several more levels of stimulation, for example, for those who lead a healthy lifestyle, profess family patriarchal values, want to live in rural areas, etc. etc. Options may be different.
And only then can it be called a demographic policy.
After all, it will form and create the future structure of society. A person needs to be provided with work, housing, to create an adequate and necessary standard of living, opportunities and prospects for personal development. Subject to the absence of bad habits and addictions.
Stimulate need quality, not quantity
. Naturally, backing it up with a powerful social policy.
A person should be given the opportunity to have children.
Everything else is meaningless, even harmful, and in the near future - disastrous. This is worse than throwing money away. After all, such a "policy" of stimulation will lead to much greater social problems than we have. In this case, the quantity will not automatically become quality, but
everything really depends on the latter
.
Some liberal-minded citizens will want to see in my arguments social discrimination, etc. But I will answer in advance: "Who pays, he orders the music." The state and taxpayers have the right to pursue a policy that really leads to the prosperity of society, and not to its decline and destruction.
As for migration policy, it is necessary to establish
adequate
The current situation is more stringent rules and restrictions for arriving at a permanent place of residence in Ukraine. And they must be so tough and effective that we and our culture can avoid the fate of endangered and dying. Restrictions should apply only to non-complementary and poorly assimilating cultures and ethnic groups. I think there is no need to take an example from Europe, otherwise we will "drown" with them.