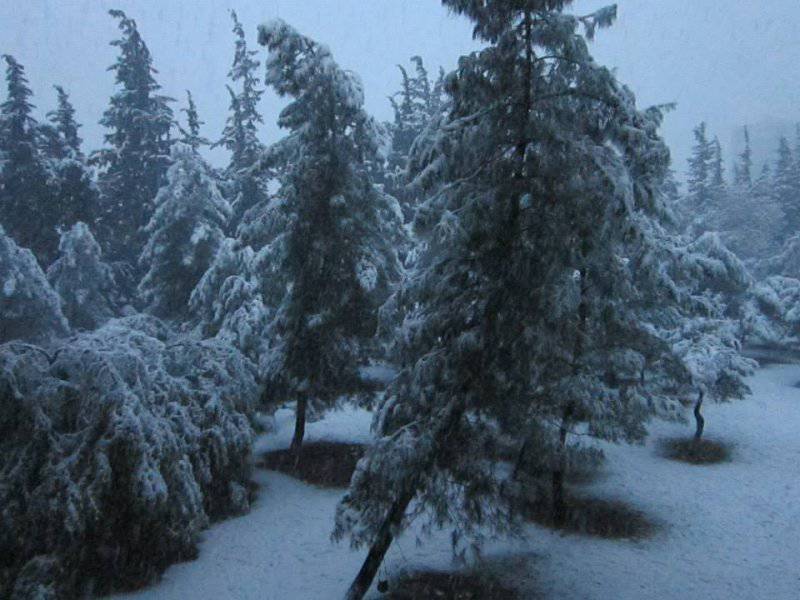 Throughout Syria, the weather has become cold for this region. The daily temperature is below normal by 10 degrees - in Damascus, it does not exceed + 1, and at night the thermometer drops below zero. It is snowing now. Even colder in the northern part of the country and on the coast - everything is covered with snow. In the schools of the country canceled classes. The infrastructure of Syria is not very suitable for such weather, which is very rare - and even more so in the current conditions, when terrorist groups supported by the West, Turkey and the Gulf monarchies are operating in the country. They systematically attack power plants, power lines, cars with fuel, block roads, hindering the delivery of fuel. Therefore, the Syrians are freezing in their apartments, the prices for fuel oil have risen, and many, even with stoves, cannot drown them. The power outage time has increased, which means that it is often impossible to keep warm even with electric heating appliances.
Against this background, the bloody crimes of the militants of the so-called "opposition" continue. On the night of December 12, they invaded the Adra workers' settlement, located 40 kilometers from the capital. In this town, the authorities provided workers with apartments at very low prices, so the main population there is workers in factories and plants. But lately, "refugees" from other parts of the country began to settle there - unfortunately, under their guise in Adra there were "sleeping cells" of gangsters who woke up at the fateful hour.
Al-Qaeda's ominous flags flooded the city. According to eyewitnesses, the militants staged a massacre on a confessional basis - for only one belonging to Alawite families. The central square is littered with corpses and even severed heads. One of the first targets to be attacked was a bakery. Gangsters were hunting not only food that was stolen. People became the main target of devilish hunting. Six bakery workers were killed immediately, the rest stolen.
The army immediately put forward its units to clean Adra from the most brutal criminals. A counter-terrorist operation is currently underway.
Meanwhile, in northern Syria, a fierce conflict continues between the two branches of the "opposition" - the so-called Syrian Free Army, supported by the West, and the radical Islamists of organizations associated with Al-Qaida - Jebhat Al-Nusra and the Islamic State of Iraq and Levant. " In the past few days, radicals have taken over headquarters and
weapons
warehouses of the "Syrian Free Army". According to some reports, her high-ranking leader, Salim Idris, fled to Qatar on an emergency basis (the SSA themselves are trying to refute this, but there is little faith in the impostors).
Even the United States was worried about the situation and suddenly officially announced the termination of the so-called "non-lethal" assistance to the Syrian Free Army (apparently, the "lethal", but unofficial assistance to extremists continues with the other hand).