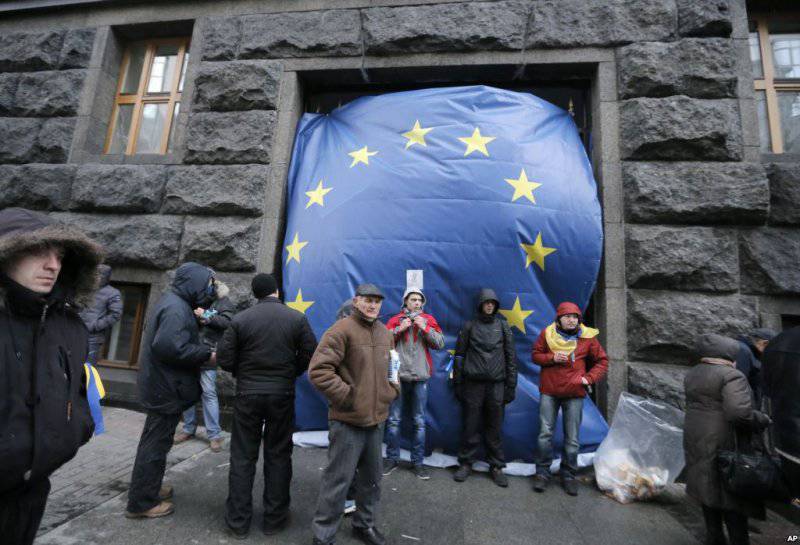 I apologize if the subject matter does not quite correspond to the specialization of the site. But in view of the topicality of the topic, it seemed to me that my opinion would be interesting to many.
You know, dear friends, today for the first time in my life I have felt what it means to be abandoned. I am writing from Kiev. I am 36 years old, and all my life (except for short periods) I have lived here. I am very worried about our country and our people. I've been watching 20 for years, being robbed, raped, disfigured. I was indignant to many, I was dissatisfied with many. But today I felt precisely the abandonment.
I am what is called a "pro-Russian" citizen of Ukraine. I love my Motherland, I love my dear Kiev, I love the people who live here, despite all their (our) shortcomings. But I sincerely believe that our happiness and healthy development is possible only in close alliance with the brothers from Russia and Belarus. Why I think so is a topic for another article. But this is my opinion, and I can seriously argue. Now it's about something else.
There are a lot of people like me in Ukraine. This, as we all know, is practically the entire southeast region. This is a very large part of central Ukraine and Kiev. There are many such people both in Western Ukraine and in Transcarpathia. According to my personal estimates (although I did not conduct a survey), these people are no less than 50% of the total population of the country.
Today, in my hometown, there is ... a parade of madness. Nationalist activists brought protest against the cancellation of the signing of an association agreement with the EU from the western regions brought to the city. They (as far as I know, in pursuance of the court decision) "asked" the Berkut from the Maidan. After that, many Kyivans took to the streets (of which there are also many, of course, visitors from other places who are simply working in Kiev), and now all this cannot calm down in any way. The central area of ​​the country is blocked by barricades of the New Year tree, which creates major problems for cars and pedestrians. To get through the fence guarded by activists of the Maidan, a person has to utter a Bandera greeting. You are told "Glory to Ukraine!", And you must answer "Glory to the Heroes!" Then - go through. Everywhere flags of EU are hung out, even on the flagstaff of the Kiev mayor's office. Everywhere are sold stickers, ribbons, flags, etc. agitproducts. People can even buy a small sticker with EU stars to seal the flag and the emblem of their own state on the license plate of their car. I do not quite understand how such an action is consistent with their nationalist views, because they glue the flag and coat of arms of their own country! Well, okay, that's their business ... There, on the Maidan, solemnly, in some painful ecstasy, they trample and swear at the flag of the country that most of them educated, built the entire infrastructure, industry, etc., and which 20 really doesn't exist for years. There was also posted on the remains of the Christmas tree slogan "Hutin Puy!", The meaning of which is clear to everyone. It is not clear what does this person have to do with this, who practically does not say anything at all about everything that is happening.
You see, I could talk a lot about what is going on in the minds of the protesters. The fact that the mediocre, greedy and stupid Ukrainian authorities brought the country to the handle. The fact that the European integrators skillfully used a wave of popular protest against the current government and deftly armed this protest with European integration slogans. The fact that half of the protesters have such a mess in their heads that even discussing with them about the fate of the country would be ridiculous. The other half, to tell the truth, is simply so little educated that there's really nothing to talk about with them. May activists of Maidan forgive me, but this is a fact. IMHO! IMHO! (They are so clearer than simple: "This is my humble opinion.") Finally, that the poor, who were mutilated in the 1990 and 2000, students' experiments in their heads ring colorful balls of European values ​​so loudly that in principle they do not hear any reasonable arguments. I could talk about all this and many other things for a long time. But I decided not to write about it.
You know, I am a Kiev resident, I am a patriot of my land, today I don't know how I can personally fight this idiocy unfolding before my eyes in the center of my hometown. Not a single political force has organized at least a kind of countermeasures. In addition to the ruling Party of Regions, of course. But who in their right mind will support this power? No pro-Russian organization does anything visible. Nobody urges people to even go on a march of disagreement with this whole Sabbath. No one collects signatures under an "appeal to the people," to show that not all of Ukraine shares the nonsense that comes from the scenes of the Maidan. I specifically googled on this topic - and found nothing! I understand that the European side has great funding, media support, etc. And here is the question: why do the pro-Russian organizations have no funding? There 10 millions of people who are called Russian. And how many more Ukrainians, who consider themselves Russian in spirit? There is a "Russian block", there is a "People's Council of Ukraine", there is a "Russian unity", there is someone else, but they are not visible at all! Of course, you can say, they say, answer it yourself - why they are not visible! I understand that our own passivity is partly to blame. But why don't they help us here? We were actually in the occupation!
These are all essentially rhetorical questions, I do not expect an answer to them. I am just a Russian person who is sitting in Kiev now - the Mother of Russian cities - surrounded by "klyatyh Poles" and does not know who to ask for help from, and whether there will be help ...